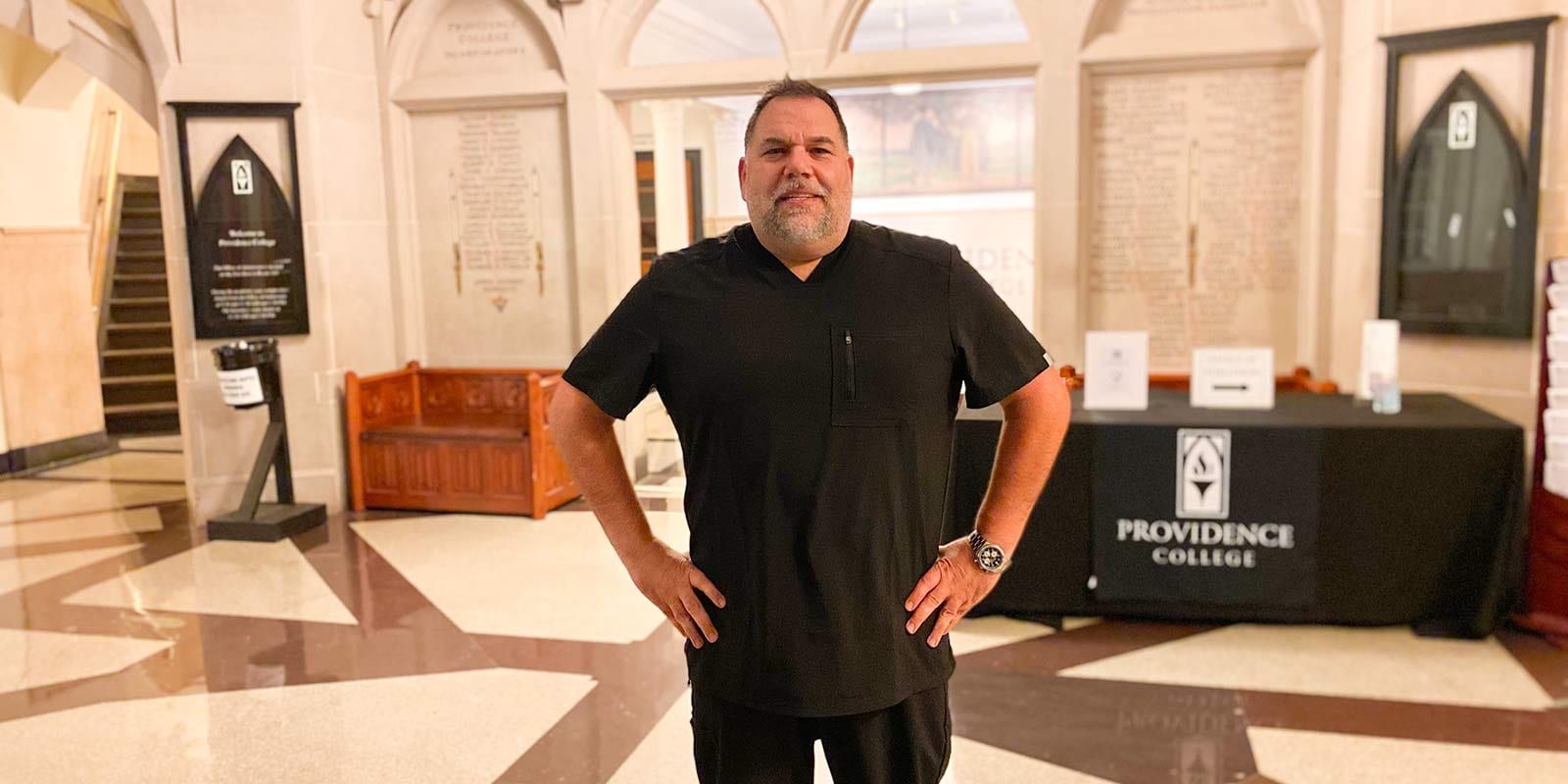 Career Pivot Success: How Robert Georgio Went from Lab Tech to Healthcare Administrator
When Robert Georgio was nearing 50, he experienced a professional challenge that many face at mid-career in a fast-changing world: he suddenly needed to learn new skills and earn new credentials to stay competitive in his field.
Three years later, the former cardiac catheterization lab technician is on his way to a bachelor's degree in Healthcare Administration and is already working in a new role that's set him on the path to where he wants to be…
Georgio, a Rhode Island native who lives in West Warwick, first began his career in healthcare as a phlebotomist more than 30 years ago. After a few years he progressed to become a cardiac catheterization lab technician, helping to perform imaging tests on patients with heart and coronary artery disease. It was a role he enjoyed for the bulk of his career.
"The first time I spent the day up in the cath lab I was hooked. It was something I was really interested in and good at. I got on-the-job training for about six months and had to learn about everything from the human anatomy of the heart to x-ray film processing and how to do imaging recordings on different kinds of equipment. I was really kind of a jack-of-all-trades."
Georgio's career flourished. He worked at the cath lab at Rhode Island Hospital for more than a decade, before helping to open and run one at Landmark Hospital in Woonsocket, and then moving on to Miriam Hospital where he spent 13 years caring for patients in the cath lab there.
But Georgio says over the years, the field got more and more specialized and the credentials required to stay employed went beyond the extensive on-the-job training he'd already had.
"Places wanted people with an x-ray license or a nursing degree or other formal training. Then certification requirements came out for cath lab techs. I studied for 3 years and got certified because without it the chances of getting another job in my field were slim. It was pretty hard but the process opened me up to the possibilities of making myself more marketable," he says.
Not long after, Georgio was offered a lead tech and managerial position at Kent Hospital – but it would require him to eventually earn a bachelor's degree. He took the role and as luck would have it, an opportunity to earn the degree he needed showed up right on his proverbial doorstep.
"Providence College School of Continuing Education showed up at Kent to talk to staff about their new Healthcare Administration degree program. I went to an information session at the college and found out it was actually pretty easy to get started," Georgio says.
The ability to get started on his degree quickly and with lots of support was the deciding factor in helping him to move forward and go back to school, Georgio says.
"For me, being able to go to a prestigious school like PC and just sign up and start taking classes immediately was awesome. I didn't' have to write an admission letter, the transcript process was pretty easy and they had classes available at night, whether you're taking them on campus or online," he says.
"I love being in the classroom, but the ability to mix in distance learning and hybrid formats is really great – there's just so much flexibility to work around your schedule. You can get your degree on your own terms, however much or little you can take at any given time. For me, all of that really separated PC SCE from other schools."
As someone who didn't have much college experience prior to his professional life, the ability to get credit for prior work experience was also a big draw for Georgio.
"I didn't have many college credits, maybe 18 or 19, so I was really coming in like a freshman. I met with the School of Continuing Education's assistant dean, Anne Nagle. She talked with me for almost two hours about my life's work to put together a plan on how I could get college credit for my work experience."
Georgio is well on his way to earning the degree he says he's always wanted – and he's already got a new job that he credits to his experience thus far in the program.
"The great thing about the Healthcare Administration degree program at PC SCE is that there's so much to it. You can find what aspect of healthcare you really like and fine tune your studies to match, whether that be working in finance, HR, or as the manager of a clinical department. There are just so many different ways you can go with the one degree."
Since starting the program, Georgio has left the hospital and is now working for a medical device company. He says that he's on a mission to finish his degree even faster so he can move into leadership with his new employer. He credits his new role and focus to the experiences he's had in the classroom.
"I've always loved the business side of my job – in my previous role I was the department manager in addition to being a tech. As part of my degree program I've had to take accounting and finance, and found that I really liked those courses. Last spring I took Human Resource Management with Professor Joe Gemma and that's one of the best classes I 've taken thus far. It was a total 360-degree course for me. Everything I learned in that class I was doing in my job but now I was doing it with so much more understanding," he says.
"I've been able to apply all of these classes to my real life, and many of them are taught by professors who are still practicing in the field themselves. So I can pull from those resources in real time and bring what I'm learning in the classroom to my everyday work life. It's just been phenomenal."
Though he's not yet finished with his own journey in going back to school, Georgio is already passionate about encouraging others to do the same – including his own daughter.
"When I first went back, I was really nervous. I'd been out of school for so long, I didn't know if I could do it. So I started off slow with just one class. I immediately met people who were just like me, who've been out of school for 5, 10, 20 years, and I saw that I wasn't alone," he says.
"At some point, you just have to make the time and make it happen, however quickly or slowly you can go. I know I can't take four classes and work full time, but I can take two. You just have to set standards for yourself that work for you, and realize you are going back to school for you, and you do have supports and resources that are there for you," Georgio says.
"I have two kids, and my 18-year-old daughter is going to community college in the fall. So her seeing me do this is great. I think maybe it's inspired her a little bit to go herself. And now is my time to finish what I started, and get my degree too."
Related Resources
Transfer Credits
Affordable Tuition
Healthcare Administration Degree Program
All Degree, Certificate and Professional Development Programs at PC SCE
Providence College School of Continuing Education