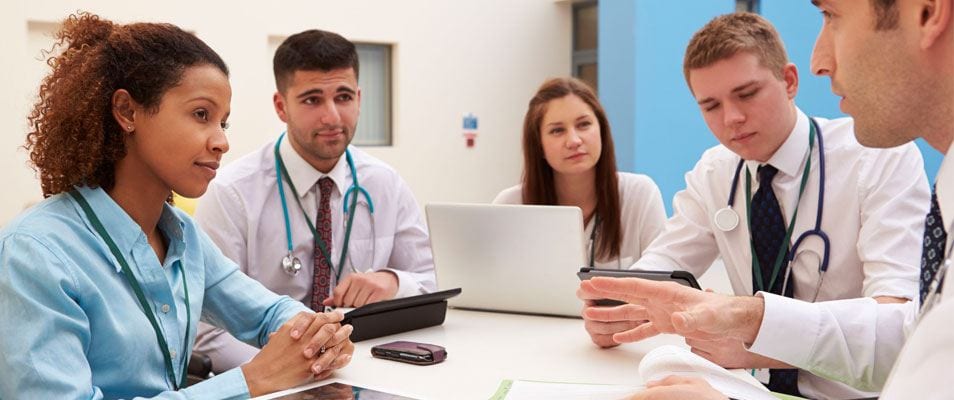 Healthcare Administration Degree
Bachelor's Degree in Healthcare Administration
Take the next step in your career in healthcare – or launch a new one – with a Bachelor of Arts in Healthcare Administration. Our brand new program is designed to prepare you for today's dynamic healthcare environment. You'll gain the most current knowledge and sought-after skills required for success in healthcare management today, whether your goal is to become a manager in the clinical setting or an administrator in the business setting.

Who Can Benefit From a Degree in Healthcare Administration?

Clinical and Healthcare Support Staff
Advance and secure your career in a rapidly changing industry.
Are you ready to take your healthcare career to the next level? A degree in Healthcare Administration will help you to advance your career, expand your capabilities and secure greater opportunities in a changing market place. It's an invaluable addition to your existing certification, license, or credentials that will set you apart from your peers and set you up for success in the field. (And, you may be able to transfer up to 75 credits from your prior education toward this degree as well.)
Professionals Currently Working In Other Industries
Make a career change and put your skills to work in a growing field.
The healthcare industry is booming – in the last quarter of 2017 it became the largest source of jobs in the United States. And although you may immediately think of doctors and nurses when you think of healthcare, today's reality is much, much broader than that. Given the enormous need and equally enormous complexity of providing modern healthcare, the industry requires many different professions to make it all work. So whether you have a background in finance or business, IT or communications, or countless other professions, you can parlay those skills to a career in healthcare administration (and perhaps even transfer credits from your prior education in those fields toward this degree, as well). If you're looking for a career change, a health administration degree offers nearly unprecedented opportunity.
Why Get a Healthcare Administration Degree?

Healthcare Administration is the fastest growing career field in New England, and across the nation.
Healthcare is now the largest source of jobs in the U.S., and jobs in healthcare administration are projected to grow 20% from 2016 to 2026, compared to just 8% for all other management occupations. In Rhode Island, 23% of new jobs created are expected to be in healthcare.
A healthcare administration salary is, well – healthy.
The average salary for healthcare administrators both regionally and nationally is nearly $100,000 per year; the average entry-level wage for healthcare administration jobs in Rhode Island is $82,700.
With a career in Health Administration, you can make a difference.
Today's healthcare field holds many opportunities, challenges and change. A career in healthcare administration allows you the chance to have a real impact in addressing those challenges and developing the opportunities to provide the best in care for people in the communities you serve.
(sources: Bureau of Labor Statistics Occupational Outlook Handbook and RI Department of Labor and Training)
Why Choose SCE?

A Dynamic Curriculum Designed to Put Knowledge Into Action
Our Healthcare Administration (HCA) program combines the strengths of the SCE core curriculum with HCA-specific courses and free electives. This comprehensive course mix provides you with a powerful combination of skills to set you apart in this growing field. You'll graduate with not only the knowledge required for today's complex healthcare environment, but the critical and highly desired "soft skills" (such as reasoning, problem solving, planning, communication and leadership) to effectively put that knowledge into action.
Our Healthcare Administration degree program will equip you to:
Understand the structure and delivery systems for U.S. healthcare system and factors that influence healthcare delivery and outcomes
Demonstrate knowledge of financial and economic issues as well as risks impacting healthcare organizations
Understand ethical, legal, and regulatory considerations in the management and delivery of healthcare
Utilize management principles and cultural competencies in interactions with diverse staff and clients
Utilize health information systems to enhance organizational outcomes and goals
Apply and analyze data to support continuous improvement and strategic planning in healthcare organizations
An Affordable, Flexible and Supportive Environment with Evening and Online Classes
Study at your own pace and on a schedule that works for you, with evening and online classes
Pay just $380 per credit (comparable to or less than most RI and MA state schools); plus, scholarships and financial aid are available
We have a very generous transfer policy that allows you to transfer up to 75 credits, so you can finish your degree even faster (and at a reduced cost)
We also award credit for qualifying prior work, military, or life experience
Our small classes are led by faculty who accommodate working adults
Our advisers help you get started and are always available to support you along the way
You'll graduate with a degree from Providence College, a prestigious institution that has been repeatedly named the top regional university in the northern United States by U.S. News and World Report