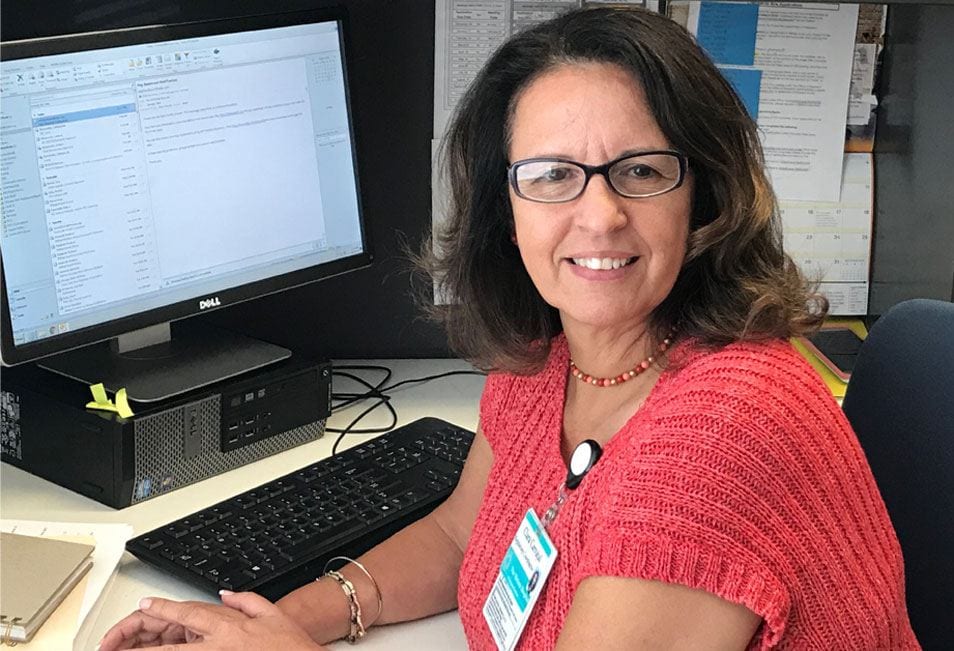 A Degree and New Dream Job At 60: How Clara Carvajal '17SCE Made it Happen
In July, Clara Carvajal '17SCE started her dream job as a regulatory coordinator at The Miriam Hospital's Cardiovascular Research Center. It's a goal that the mother of two and grandmother of four had been wishing for for decades, and actively working toward for years. But although her success was years in the making, it's equally the result of just a few key moments when she had the willingness to seize opportunity when she saw it.
It all started one night after yoga…
"I believe that if something has always been in the back of your mind, it's like a seed is there," Carvajal says. "All it takes is an event or somebody talking to you and that seed turns into a spark. I got my associate's [degree] in medical technology over twenty years ago, and getting my bachelor's was just always there in the back of my mind."
Carvajal got the spark she needed as she was leaving yoga class one night five years ago. A friend in the class shared how excited she was to be graduating from Providence College. She told Carvajal all about her experience as an adult student at the College's School of Continuing Education (SCE), and when Carvajal shared how she'd always wanted to go back to school for her bachelor's degree, her friend passed along contact information for SCE Adviser Jennifer Andrews.
"I visited [Jennifer] and immediately after talking with her about what SCE had to offer, I picked out my classes. Just like that, it was a done deal," she says.
With Andrews' help, Carvajal decided to pursue a degree in Liberal Studies because it opened the door to a wide range of career paths, including work in the healthcare setting. She had worked for many years in the clinical research setting as part of a private practice, but had always wanted to work in the hospital environment. (At the time, SCE offered a clinical Pre-Med/Pre-Health certificate, but no programs for students interested in a non-clinical profession in healthcare. However, a Healthcare Administration degree program is now available!)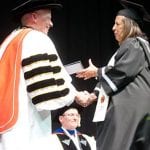 "I graduated in May, 2017, and then I wasn't sure what to do next, so I met with Ted DeNicola at PC's Center
for Career Education & Professional Development. We worked together on getting my resume up-to date. He
was so helpful, and it turned out great. Once my resume was done, I started looking for job opportunities in the area,
but there wasn't much that fit what I was looking for," Carvajal recalls.

A ride to the hospital paves the way for the career she'd always wanted…
"In October, a friend of mine had to have a procedure done at The Miriam Hospital. She wasn't going to be able to drive herself home afterward, so she asked me to take her," Carvajal says.
"The night before, I went to the hospital's website and printed out a volunteer application. I've always liked to volunteer, it has always been fulfilling, and I thought it would at least give me the chance to be in the hospital setting. I brought the application the next day and was accepted on the spot. I started volunteering right away at the Patient Information desk, and I loved it."
"One day a nurse from the research center came by to share a list of the patients that would be coming in that day so I could help to direct them when they arrived. I started talking to her and found out they were doing cardiovascular research. I said, 'I have experience in research myself, working in the regulatory process.' And she said, 'We've been looking for someone with that experience!'"
A few months and a few meetings with the research team later, Carvajal was hired.
"I started on July 17, and it has been so wonderful. I feel like a fish back in the water," she says.
Carvajal's advice to others? Look for the inspiration to go for your goals.
"I got my diploma at 60; it has to be the right moment for you, if it's in your mind and in your heart, it's stuck on you. All you really need is something that inspires you to go for it. It can be as simple as talking to someone. I was inspired by my friend in yoga. So, my advice for someone thinking about going back to school would be this – talk to me! I would gladly tell them my story. "
Related Resources
Liberal Studies Degree
Get Started: Apply