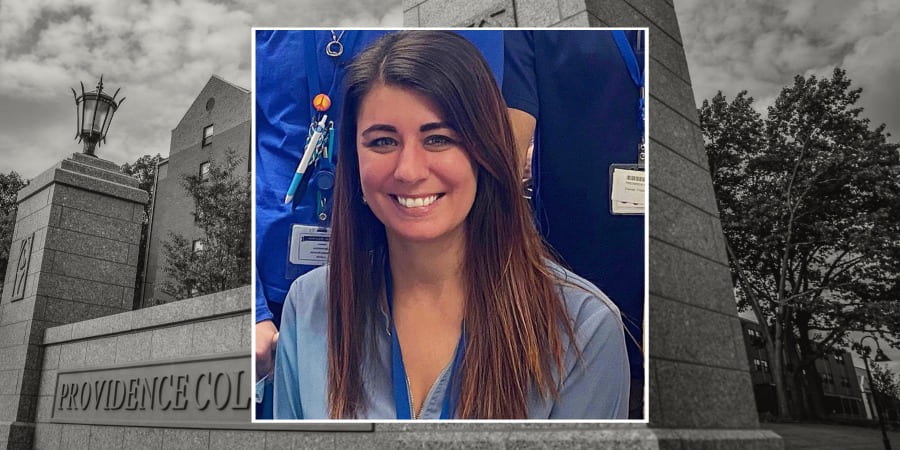 How the Pandemic Inspired This Pharmacy Tech to Become a Healthcare Leader at PCSCE
Amanda Bullock has worked in healthcare for years. When she decided it was time to move forward in the field, she enrolled in the Bachelor's in Healthcare Administration degree program at Providence College School of Continuing Education (PCSCE). She never could have guessed at the time that she'd be learning to be a healthcare leader in the middle of a pandemic.
But now, just months from graduation, she says the experience has shown her what a difference healthcare administrators can make and it has inspired her plans for the future.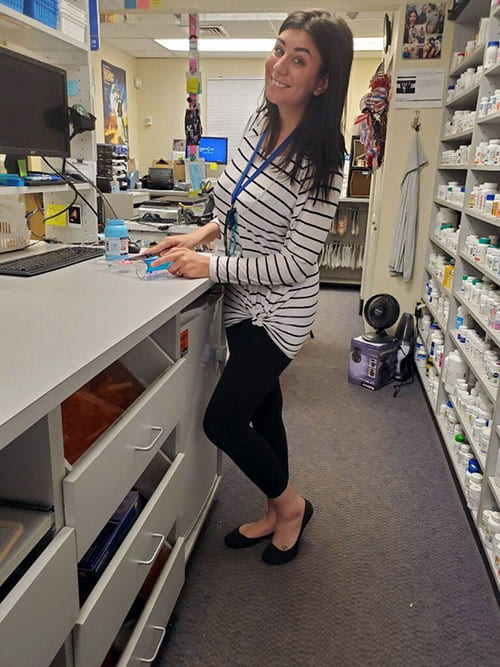 "Being in the Healthcare Administration program in the middle of a pandemic presented some challenges of course but it also taught me a lot," Bullock says. "I was learning about so many of the healthcare issues involved in the pandemic right as it was happening. When COVID began, I was in the middle of an epidemiology course, and it was pretty incredible to be learning about it and living it at same time."
A mother of two from Riverside, Rhode Island, Bullock focused on raising her children while working in various healthcare roles from administrative office positions to the pharmacy setting. She's currently working as a pharmacy technician. But as her children grew older, she decided she was ready for something more.
"When my youngest child started school, I felt comfortable going back to school myself," she says. "I started at the Community College of Rhode Island to obtain an associate's degree and while I was there, I found out about the GATA program between CCRI and PCSCE. When I saw that a bachelor's degree in Healthcare Administration was available at PC, I felt like it was the path I was supposed to go down and decided to enter the program."
"GATA" is PCSCE's Guaranteed Admission and Tuition Assistance Program. The program allows qualifying students at participating community colleges to apply for early guaranteed admission to PCSCE. Those accepted to the program also receive 33% off PCSCE's tuition (which is already less than many four-year state schools in the region).
"GATA really helped me in being able to pursue a bachelor's degree," Bullock says. "The discount you get off tuition at PCSCE is a really great incentive and being a mom with a full-time job and a family to care for, that really mattered to me. I wanted to get a bachelor's degree, but I didn't want to put my family in a difficult position to get it."
"[The program] also made the transition from CCRI to PC very easy and everyone in the program has helped so much along the way. My adviser at PCSCE, Jennifer Andrews, has been great. She's guided me all along the way, from when I was still at CCRI through to my time here at PC. For anyone considering going back to school, I think PCSCE is a wonderful fit. It's a quality education at a very low cost, even without the GATA program, and the flexibility of the classes is great."
Bullock says that the atmosphere and connections with other adult students like herself in the Healthcare Administration program were especially beneficial during such a surreal time.
"In this program, we're all in it together. Semester after semester we've been taking the core program courses together and we've definitely formed a bit of a bond along the way, because we've been through these experiences together as well," Bullock says.
"We're all in different positions in life but that's also great because it's allowed us all to be able to see somebody else's perspective on what's being learned and on what's actually happening in healthcare right now. I really enjoyed seeing things through the lens of many different professions within the healthcare field by talking with the other students in the program and hearing about what their day-to-day hands-on work is like."
"I also love that we're not just being talked at in our classes. We're actively contributing and that's also been very helpful in my learning. Professor Moore, who taught the epidemiology course that I was taking when COVID began, was just wonderful. We brought everything that was happening out in the world into our class discussions and had the opportunity to apply what we were learning about epidemiology in real time."
"And Professor Sumski, who teaches Healthcare Law, made it so interesting which was a surprise to me. His course really opened my eyes to all the different avenues I could go down with this degree that I might have overlooked before because I had misconceptions about them."
"I really like the fact that this degree is so versatile, and I'm not limited to a specific type of position when I graduate."
That time is coming up quickly; Bullock is set to graduate in May. But her journey isn't over yet. Thanks to her experience at PCSCE, she's planning to pursue a Master's in Public Health so that she can make a broad impact in helping to improve peoples' lives.
"My professors here at PCSCE and the experience I've had here has definitely influenced me in that direction. Going for my master's was not even in my mind prior to coming to PC, but I've learned that I am capable of working and continuing my education at the same time, so that has given me a lot more confidence," she says.
"This experience has opened up my eyes to the different struggles and challenges within our society and has created a desire in me to help with that. That's partly due to what we've been through in the last two years with this pandemic and seeing how our country has handled it."
"I've found the disease control aspect very interesting. But through my work at the pharmacy, I've also been introduced to various aspects of things like the opioid epidemic in our country, which is such a serious problem. So I'm not quite sure yet which path I'll focus on, but I'm really looking forward to getting started."
"I've been at this for a while since I've been going to school part-time, but even so, it absolutely flew by. It's really wonderful to see the light at the end of the tunnel now with graduation right around the corner, and just knowing that I've accomplished this, and I've been able to still be there for my family and also be there for myself at the same time – it's a bit emotional."
Providence College School of Continuing Education