The Remarkable Journey of West Warwick Firefighter Ben Kowalik
2015 was a big year for Ben Kowalik. He was hired by the West Warwick Fire Department as a firefighter and EMT. While on duty he helped to deliver a baby – which is how he first met his girlfriend of the last year and the little girl he now considers his stepdaughter. And, at the urging of his captain, he started working toward his Bachelor of Science in Fire Administration at Providence College School of Continuing Education (SCE). On May 19, Kowalik received his degree. Looking back now, he says the timing of all that happened in that whirlwind year couldn't have been better.
"I had just graduated from CCRI with my associate's in Fire Science and got my job on the fire department, so I figured I was done, I wouldn't need to go to school anymore," Kowalik recalls. "But my captain at the time, he was going to SCE for their fire science program and he said, 'You're going to need this eventually down the line if you want to be higher brass. Don't wait – once you get married and have kids, life will only get busier.' And sure enough, he was 100% right! I've got my girlfriend and a little one, and now I'm very happy that I've got my degree too."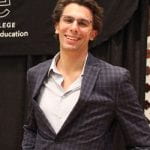 Kowalik's story is a great reminder that although none of us can predict the future, it still pays to plan for it – even if we don't always feel like we're completely prepared.
"I think I was unprepared for what I was getting myself into at first," Kowalik says. "It was difficult to become a student while working full time, but I was surprised at how much I really enjoyed it. It's really a great community at SCE, and I definitely found a passion for learning, not even just about fire science, but just always learning in general. At the beginning I thought I was just going to get in there, take some classes, get my degree and get out. Now that I'm finished I just keep thinking, 'Do I really have to leave?'"
But although his graduation seems to mark the end of a very eventful chapter in his life, Kowalik has much to look forward to – and he's right back in the mode of planning and preparing.
"The best thing about me getting this degree is also the most stressful thing, ironically – it's given me so many options," Kowalik says. "I spoke with my adviser and if I really wanted to I could go back to PC, take a couple classes and go to medical school – so that could potentially be on the horizon. Or I could go for my master's in emergency management. I'm going to take this summer and do some soul searching and really weigh all my options and see what's best for my family and me."
In the meantime Kowalik, who was promoted to first class private in the West Warwick Fire Department during his time at SCE, is already paying forward the good advice given to him by his captain four years ago.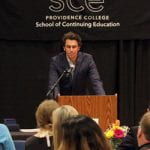 "New kids come in [to the fire department] and I tell them, just go. When you have the opportunity to get that degree, especially with the support of the fire department, there's really no better time. So just go right now, because this is the time, and the journey is remarkable."
Related Resources
Bachelor's Degree in Fire Administration
How PC Makes it Possible to Go Back to School