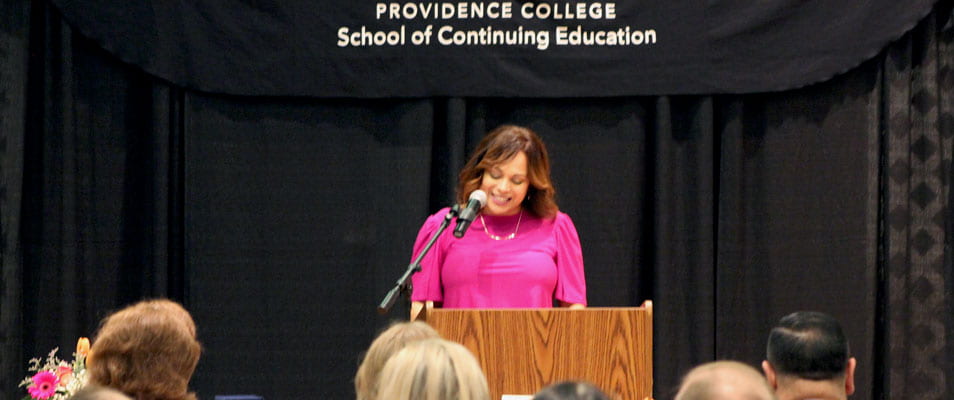 What This Mom of 3 Can Teach You About Leadership
Possibility. It's the one word that Elsa Campos '19SCE chooses to sum up her experience as an adult student at Providence College School of Continuing Education (SCE). And it's one of the traits that the mother of three from Cranston, RI has learned is most important to see in herself, in others and in each new challenge in order to be a truly great leader. How did she come to learn that? She majored in it.
Campos enrolled in SCE's Leadership Development bachelor's degree program in January 2015. She'd earned her associate's degree at the Community College of Rhode Island eight years earlier, but decided to hold off on continuing her studies after the birth of her twins. As her three sons grew older and she moved up the ranks at work, Campos says she decided it was time to go back to school and finish what she started.
"I'm currently a Project Lead at MetLife Home & Auto, where I've worked for more than 21 years. When I began moving into bigger roles in the company, I knew it was time to get my bachelor's degree," Campos says.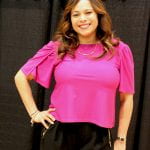 "I chose SCE because a good friend of mine went there and highly recommended it, and because it offered the flexibility and affordability that I needed. I chose to major in Leadership Development because the program was such a good match for the work I do at MetLife, and because I was interested in learning how to develop other people."
But although she started out in the Leadership Development program with the intention of learning how to find and develop the possibility in others, she says the program also taught her another unexpected skill – how to find the possibility in herself.
"What I've learned is that leadership isn't just about leading other people. It's also about looking at yourself and how you can grow and be better. And that's helped me both in my personal life and my work. Since I started at SCE I've received two promotions, and I believe that's only the start of what's to come as I continue to grow in the organization, " she says.
With valuable insights, new leadership skills and the bachelor's degree she'd wanted for so long now firmly under her belt, Campos has also gained valuable perspective. She has some words of advice for others who are thinking about going back to school or down a new and different path.
"I knew that going back to school would be challenging, especially as a mom of three who works full time. But what I didn't expect was that actually, the hardest thing about it was just deciding to go back," she says.
"The starting point is always the hardest. You can clearly see all the obstacles, but it's hard to see the possibilities. Once I decided to do it, it just kind of flowed. The support I have at home really helped, and being really organized helped. But really you just learn how to balance it all as you go."
In the style of a truly great leader, Campos also credits her success to the people around her.
"One thing that's really special about the PC community is how much they care, how available all the staff and faculty are, even the other students. We're all different but also so similar in a lot of ways with the challenges we face. The support was incredible, and it's what made me keep going. I really felt like I was part of a community. That helped me to see the possibilities just as well as the challenges, and that's what made reaching this goal possible for me."
Related Resources
Leadership Development Bachelor's Degree Program
Leadership Development Certificate Program
How PC Makes it Possible to Go Back to School