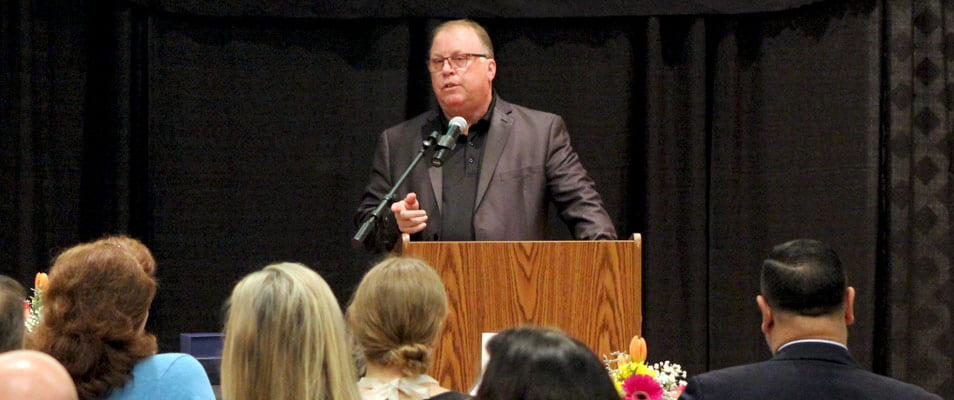 At 56, This Construction Superintendent Earned A College Degree – Why He Says It Was Worth It
Stephen Jensen '19SCE isn't your typical new college graduate. He's 56 years old, with a longstanding and successful career as project superintendent for a Massachusetts construction company and two grown children who've both already achieved a college degree themselves. Some might wonder why he'd even bother going back to school at all. But Jensen says it's been a worthwhile journey that paid off in some surprising ways even before he walked the stage at graduation on May 19.
"It's been 10 or 11 years since I started at SCE [Providence College School of Continuing Education]. I decided to go for a degree in business administration because my managers were starting to get younger, and I felt like I needed to learn new things too, to keep up," Jensen recalls. "I remember telling [SCE Assistant Dean Anne Nagle] at the beginning, 'I can only take maybe one class at a time, I build for a living and I'm traveling all over the place.' And she said, 'Well, you can be 55 with a degree or 55 without a degree. It's your choice.' And that was it, I was all in."
Although the road to a degree was a long one for Jensen, he says the benefits of going back to school were almost immediate.
"My salary has doubled since I started going to PC, and I know part of the reason is because the knowledge I've gained there over the years has made me a more effective manager."
Jensen says that although he was thrilled to find he was building new management skills so quickly, he also found he was growing in other, more surprising ways – ways that reshaped how he thought about himself.
"One of the things that surprised me was how good I was at English," he said. "I always thought my strength was only in math, but I've discovered that I love literature. Marcia Harrop and Barbara Sillman were some of my favorite professors and I was really surprised when I got As in those classes. It's something that I always thought I'd be failing and it's just kind of unexpected, you know, this construction guy reading Shakespeare."
But the triumphs were not without some challenges, of course.
"One of the most challenging things about going to college as an adult is raising a family at the same time and having a full time job," Jensen says. "A lot of people at SCE that I've met have the same challenge. After having a hard day at work, sometimes you just don't want to go and you want to give up. But I never did."
Jensen attributes that to the support of Jennifer Andrews, his academic adviser at SCE, as well as his involvement with SCE's Student Success Program and the uniquely supportive environment of the PC campus as a whole.
"I've found that at PC you're all equal, whether you're an adult student, an undergrad student, a professor, a security guard, or Joe in the bookstore. In your job you're not always equal. Even when you're right, people with status can make you feel inferior. PC isn't like that. They make you part of the family. After 10 years I know the names of people all over campus, we're all on the same level, working together and helping each other out, and I think that makes a big difference," he says.
Jensen recalls several incidents throughout his time at PC that he says illustrate the special and supportive atmosphere that helped him to complete his studies.
There was the time he was walking across campus fully outfitted to play Santa at SCE's annual Christmas Party, when a young undergraduate ran out of his dorm to say hello to "Santa." When Jensen shared that he'd actually never done anything like that before and was feeling nervous, the young man said "Ah, you'll do fine!" and walked him the rest of the way to the party.
Then there was one of the few times he needed some tutoring help.
"I had a tutor named Ashley who was an undergrad freshman and she taught me how to get through Logic, which I was struggling in. She really taught me how to approach that class, and I got an A. I was so thankful for that," he says.
On another occasion, it was Jensen who offered the support.
"SCE has this event, An Evening in Friartown, where people interested in becoming a student can come and tour the campus and find out more about the school. I was walking a group around and talking with them about what it was like to go back to school there. Some of the people that ended up enrolling said they went because of what I said that night. One guy who lived right in the area said he'd walked by campus a bunch of times before and couldn't believe he was a student now," Jensen says. "So it wasn't just the classroom learning, it was experiences like that at SCE that made me feel like I had a greater calling, like I was part of something, that I could do it."
Now, with a degree under his belt and the chapter of his life spent at SCE coming to a close, he's already dreaming about what he can accomplish next, combining the skills he's gained with his degree with the passion he has for construction work.
"I'm thinking about opening my own business someday – that would be my dream," he says. "I could stay at my job for the rest of my life and be fine, but there's something inside me that wants something more. I've always wanted to own a business renovating buildings in Newport, ever since I was a kid. So I'm thinking about maybe one day opening up a business down there. I probably wouldn't have thought that was possible before. But Providence College has given me the confidence to know that I can."
Related Resources
SCE Degree Programs
How PC Makes it Possible for Adults to Go Back to School