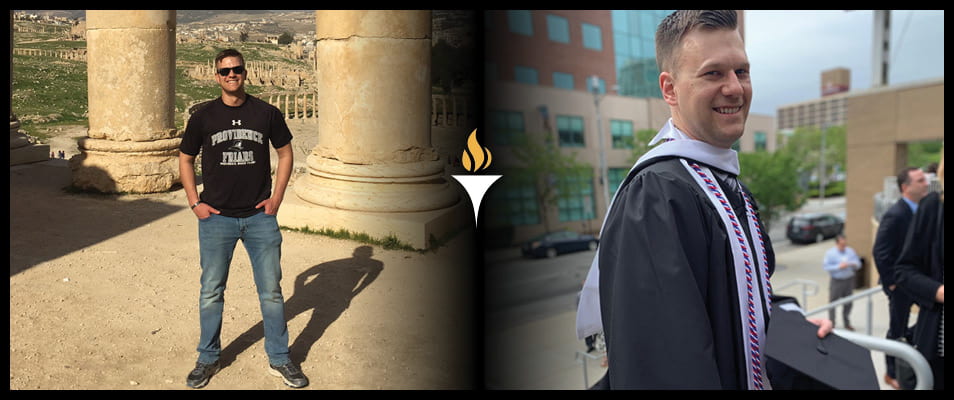 Marine Earns Degree After 10 Years Balancing Active Duty, Work and College
It was 2009 when Adam Pienkos of Cranston, RI decided he wanted to go back to school. He'd just finished four years of active duty in the Marine Corps and though he continued to serve in the Marine Corps Reserves, he enrolled at Providence College's School of Continuing Education (SCE). Two deployments and ten years later, he walked the stage at Providence College's 101st Commencement ceremony on May 19, complementing the leadership skills he learned in the military with a bachelor's degree in Leadership Development.
"It's taken me a while to get here but this was something I wanted to do for a long time. Now that I'm finally at the end I can't believe I actually made it," Pienkos said.
Though it may have taken a decade, the fact that Pienkos was able to earn a degree in leadership isn't hard to imagine given his military background. He's currently a Motor Transport Operations Chief with the Marine Corps Reserves at Fort Devens in Massachusetts. He also works full-time as a Production Planner at Electric Boat in North Kingstown, Rhode Island.
But even with all of that career and military experience under his belt, going back to school was an experience that Pienkos calls "transformational." So much so that he remained committed to his studies even after being deployed to Afghanistan in 2011 and again to Jordan in 2016.
"What's been really great about SCE is that they really worked with me both times I was activated and had to take time off," Pienkos said. "Assistant Dean Nagle really helped me get back into the swing of things after being away. I hadn't been to school in years and she still remembered me, and helped me plan everything out for the future so I could feel comfortable and confident that I would eventually complete my degree."
Though Pienkos began his studies at SCE as a Social Science major, he decided to switch to Leadership Development when he returned to school after his deployment to Jordan. The program had just begun being offered at the school a year earlier.
"Most of what I knew of leadership was from the military, so with the Leadership Development program my goal was to take the skills I learned there and refine them for the workplace," Pienkos said. "It's a different kind of leadership in the workplace than in the military, where you have a rank and there's always an inherent authority. Out in the professional world you have to go by influence. Everything we covered [in the Leadership Development program] has made me a lot more self-aware and I've been able to take what I learned and apply it not only to my job but in the reserves too. So it's been a great experience and has changed me a lot for the better."
Pienkos is being called up on active duty again, this time to Japan. But with his degree in-hand, he's looking forward to what the future will bring when he returns.
"I think that having this degree and the skills I've gained from it is going to open a lot of doors for me," Pienkos said. "I've been able to reach where I'm at in my career thanks to my military experience, and I feel like having a degree from PC shows that I can succeed in the private sector as well."