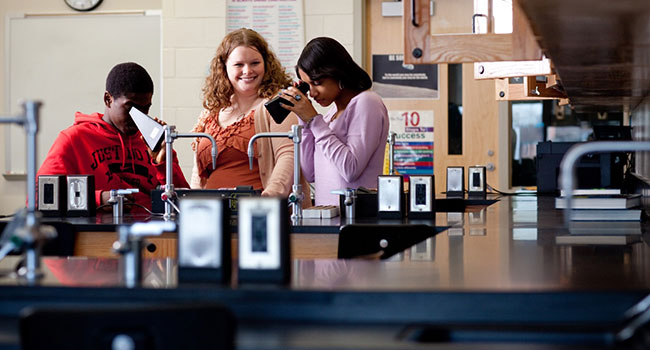 Fulfilling the Dream I Didn't Know I Had
​​​​​​​How Costa Rica, a Bad Economy and PCSCE's Teacher Certification Program
Helped Kelly Melendez Loaiza, '11TCP, Reimagine Her Life
Kelly Melendez Loaiza, '11TCP, didn't set out to be a teacher. With an undergrad degree in Spanish and Geology and a Master's in Civil Engineering, her plan was to become an environmental engineer. But as is often the case, life took her in another direction – both literally, to Costa Rica, and figuratively as a result of the "Great Recession" that began in 2007. But the chain of events that those experiences set in motion led her to PCSCE and ultimately, to where she is today – which, she says, is right where she wants to be.
Originally from West Greenwich, RI, Melendez Loaiza was working toward her Bachelor's degree at Hartwick College in New York when she participated in a study abroad program in Costa Rica during her junior year. There, she used her fluency in Spanish to teach English and Math to seventh, eighth and ninth grade students in underserved communities as part of an international outreach program. It was also during that time that she met her future husband, Saul, a Costa Rican native. When the program ended Melendez Loaiza finished her undergraduate degree back in New York, then returned to Costa Rica and Saul, once again teaching English. After a year she returned to the states to pursue her Master's degree at the University of New Hampshire.
With the perspective of an enlightening experience abroad in her past and the prospect of building a life with Saul in her future, fulfilling her career aspirations was the final piece of the puzzle to create the life she had envisioned for herself. With that vision in mind, she graduated from UNH in 2008 and began searching for her first job in the field of environmental engineering.
But there weren't any jobs to be had, at least not in the southern New England area where she had grown up and hoped to return.
"I knew there were opportunities out west, but I really wanted to stay in the Boston and Providence area. I had interviewed with many companies in the area and had several offers but just before any of them went through they all went into a hiring freeze," Melendez Loaiza says.
"When it happened with more than one company and then all the issues with housing market began, there was a lot of uncertainty. I still wanted to find a job in engineering but also needed a reliable source of income until the right opportunity opened up. So I applied to be a Spanish teacher in Randolph, Massachusetts and I was hired just days later."
She taught middle school Spanish for two years and found a new vision for her future – one that would combine both her love of science and her new passion for teaching.
"I really loved teaching more than I had anticipated. Science has always been my true passion and I wanted to stick with that, but realized I also really wanted to continue teaching – so I decided to teach science."
In 2009 Melendez Loaiza applied for a fellowship with the Knowles Science Teaching Foundation, which works to increase the number of high-quality high school science and math teachers across the nation. She was one of just 13 people across the country selected to join the physical science cohort in the Foundation's fellowship program. But one of the requirements was that she obtain her teaching certification.
That was the moment she knew it was time to go back to school.
"I looked at a lot of the local colleges and universities, including Rhode Island College and the University of Rhode Island and even a private school in California that offered an online program, but they just didn't suit my needs," she says.
Melendez Loaiza says that one of the biggest problems was that she couldn't find a program that was just for certification. "There were Master's programs, but I already had a Master's degree and just wanted to get my certification."
Financial and time constraints also presented a challenge.
"Some programs only offered classes during the day and I had a full-time teaching job that I couldn't afford to leave," Melendez Loaiza says. "The online program with the school in California was just way too expensive and I didn't really want to do all of my classes online anyway. And even the reception that I got from some of the other schools was less than pleasant. I felt like because I was already teaching without a certification, some of the people I spoke to made unfair assumptions about me and the quality of teacher I was, which was frustrating and offensive."
Then she met with Robert Vachon, who was director of the Teacher Certification Program at PCSCE at the time, and everything changed.
"I was immediately comfortable with him because he didn't make any assumptions about who I was or what kind of teacher I was. He seemed very interested in me and invested in helping me succeed."
Melendez Loaiza says the availability of both on-campus evening classes and online classes combined with the affordability of the program and the experience she'd had with Vachon cinched her decision. She enrolled in PCSCE's Teacher Certification Program.
"It was a really, really good fit for me because I was able to take my classes over the summer and after work and it was such a supportive environment. I finished the program in about two years and it really went by faster than I had thought it would," she says.
The flexibility of the classes and the supportiveness of the environment benefitted her far beyond the classroom and in ways that last to this day.
"All of the professors were really great and the ability to be physically in the classroom with them I think allowed me to soak in so much more. You learn little bits and pieces of practical knowledge from each of them that then seep into your own practice in the classroom," Melendez Loaiza says.
She also says that for her, Rob Vachon and Claire Laquerre were the most impactful, and the small classes at PCSCE allowed her to build strong relationships with them that made all the difference.
"Some of the practices and strategies I use in my own classroom today I learned from them, and that was really helpful. I ended up developing a wonderful relationship with Rob and we kept in touch. And I learned so much from Claire. She had been a teacher for many years herself in Woonsocket (RI) and had a lot of experience. The thing I loved about her was that she had really concrete ways for helping us think about how we could engage students, strategies we could employ that she found useful, for when we actually get in the classroom."
Melendez Loiaza says that someone once told her that learning how to teach is like teaching someone how to swim on a dock.
"Well," she says, "Claire had talked about what the strokes should feel like enough times that I had enough of an idea to know if I was sinking or swimming! So it was really powerful that those were the people I was interacting with. A couple times I had issues in my own classroom that I didn't quite know how to solve, so I would bring that to Claire and she would give me advice. That was amazing. I can't imagine that that happens in all programs."
Melendez Loiaza says that having instructors with real-world experience was invaluable. "I can't speak to other certification programs taught by professors who aren't teaching in the classroom, but I imagine I wouldn't have gotten a lot of that practical knowledge that I got at PCSCE. All my instructors were either actively teaching or had been career teachers. In my mind that really sets PC's program apart."
Melendez Loaiza completed the program at PCSCE and earned her teaching certification in 2011. And not long after, so did her husband, thanks again to the flexibility of PCSCE and the unique support of Rob Vachon.
Then, the final piece of the puzzle in the new path Melendez Loaiza had envisioned for her life fell into place. She landed her dream job as an Earth Science teacher at Mansfield High School in Massachusetts, where she's now been teaching for the last five years. Saul teaches at the middle school located on the same campus. They commute together to work each day from their home in Rumford, RI, which they share with their two-and-half year old son, Guilllermo.
It was a twisting and winding road that led Melendez Loaiza to PCSCE but she says that if she had to do it all over again, she wouldn't change a thing.
"It's never too late to do what you really want to do. If you can figure out what your passion is you'll never work a day in your life, and if going to school is going to give you the opportunity it's well worth it. I consider myself very, very lucky. I absolutely love what I do and I'm so incredibly grateful."