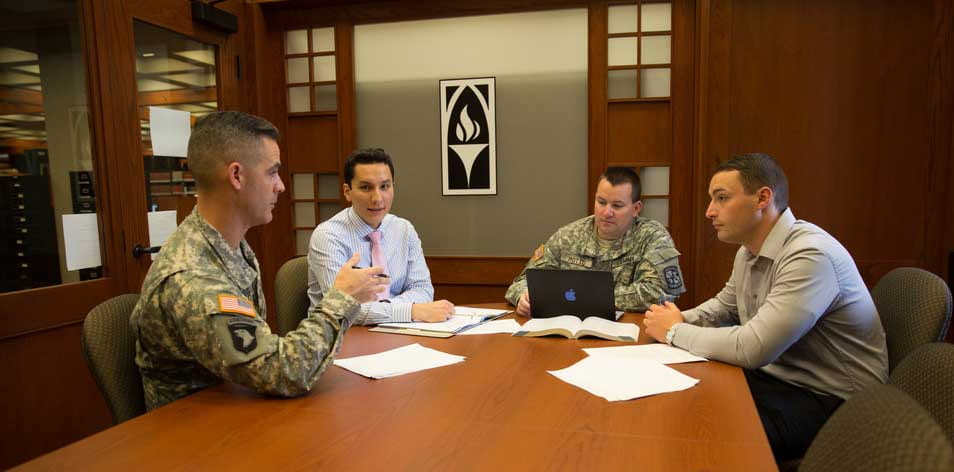 Site Home
>
Veterans and Military Service Members
Veterans and Military Service Members
Providence College School of Continuing Education (SCE) welcomes the opportunity to assist all of our service members, veterans, spouses and other family members who are eligible to receive VA Educational Benefits. Providence College is partnered with the U. S. Department of Veterans Affairs in support of the Post 9/11 GI Bill and the Yellow Ribbon GI Education Enhancement Program. We are committed to helping you with your educational needs and assisting you with your transition to academic life. We are a Military Friendly campus and strive to help all of our military members succeed.
VA Benefits for Higher Education
Credit for Military Training
Be sure to request your official Joint Services Transcript (JST) so that your military education and training can be evaluated for transfer credit.
SCE Military Service Scholarship
The SCE Military Service Scholarship Fund assists veterans of military service who attend PC's School of Continuing Education (SCE). Students who are honorably discharged military veterans, or dependents of such veterans, are eligible. Special emphasis is given to those who served in Afghanistan, Iraq, or another Middle East combat zone. The scholarship helps supplement costs not covered by Veterans Affairs (VA) education benefits. Learn more and apply >
PC Student Veterans Lounge
A lounge for the student veterans of Providence College can be found in Slavin Center, Room LL15, adjacent to the ROTC complex. This lounge will be available Monday through Friday between the hours of 9:00AM and 8:30PM. We hope that our student veterans will find this to be a comfortable, welcoming place to connect with one another, relax or study.
Frequently Asked Questions About Going Back to School at SCE as a Military Veteran

What programs of study are available to military members and veterans at PC SCE?
The School of Continuing Education at Providence College offers a variety of degree and certificate programs, offered with flexible evening and online formats to accommodate the needs of working adults. A few popular programs of study are Leadership Development, Professional Studies, Liberal Studies, Teacher Certification and Pre-Med/Pre-Health Certification – but there are many more.
View the complete list of degree programs >
View the complete list of certificate programs >
Does the School of Continuing Education accept Joint Service Transcripts?
Yes, JST transcripts are accepted. The SCE has a transfer policy in place that offers students credits for prior experience. An Admissions Counselor will evaluate your transcript for transfer credit articulation that could apply towards your degree.
Is tuition assistance available to members of the National Guard?
Yes. Members of the National Guard are eligible for $750 in tuition assistance per course.
Are Chapter 31 – Vocational Rehabilitation and Employment (VR&E) – benefits available while attending SCE?
Yes. Chapter 31 provides services to eligible service members and veterans with service-connected disabilities to help them prepare for, obtain, and maintain suitable employment or achieve independence in daily living. This may include a "subsistence allowance" while pursuing necessary post-secondary education at SCE. For further information, please see the VA's web page on the program.