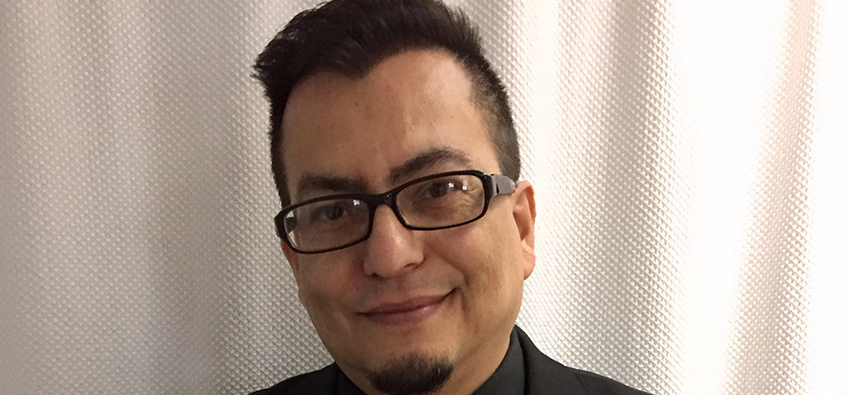 The Secret to Not Working a Day In Your Life
​​​​​​​​​​​​​​​​​​​​​​​​​​​​​​​​We've all heard the old adage, "love what you do and you'll never work a day in your life." After several starts and stops pursuing professions to make a good income, ​Silvio Cuéllar, SCE '99, eventually decided to just study the things he loved instead. And for him, it has made all the difference.
A native of Bolivia, Cuéllar studied engineering for four years at a university in Argentina, only to find that the field wasn't for him.
"I studied computer engineering for two years and electronic engineering for two years before I realized that was a mistake. I'm more of an artistic and musical person. I really love music and journalism and art," Cuéllar says.
So when his family immigrated to the U.S. in 1989, he decided to follow a year later and try something new. For the first several years he worked a variety of jobs in a Providence, RI jewelry factory to make ends meet. He also became an involved member of the congregation at
St. Patrick's Church in Providence, where he met his wife and began on the path that has led to where he is today.
Recognizing his love and talent for music, a nun at the church, Sister Martha, recruited him to be part of the music ministry there. It was also she who suggested that Cuéllar go back to school at Providence College's School of Continuing Education. At the time Cuéllar and his wife were expecting the first of their seven children and he was still working long hours at the factory to support his young family. But for him, the choice was clear.
"I had always known I wanted to be a professional and finish school and get ahead in life. So when Sister Martha suggested I go to PC and helped me to make the connections to enroll, I did," he says.
Cuéllar chose Liberal Studies as his major, because it allowed him the most flexibility to apply elective credits he'd already earned in Argentina toward his degree, and it also gave him the most freedom to study the types of things he loved most – music, journalism, drawing courses, graphic design and theology.
That's when all the pieces of what Cuéllar loved most in life began to come together to form the fulfilling career he has today: coordinator of the Hispanic Ministry at the Diocese of Providence, an award-winning writer and editor of a Hispanic catholic newspaper and a published musical composer who's performed across the country. "Now looking back, I had taken all those courses in the Liberal Studies program without knowing at the time how well they'd match up to my future career. But God's plan sometimes is not our plan. I had no idea I would end up at the diocese, I was just pursuing the things I loved," Cuéllar says.
His path to success wasn't without its challenges and doubts, though. It took him 5 ½ years to complete his degree and at one point Cuéllar says he almost gave up pursuing what he loved in favor of pursuing a better paycheck for his young family.
"The hardest part of going back to school was the perseverance. There were times it seemed I was never going to graduate. Two or three years in I got really desperate and applied to join the state police," Cuéllar recalls. "I took the exam and was one of the small percentage of people who passed. I got very close to joining but then I really thought about it and said to myself, I don't have lot of experience with weapons and I'm a very peaceful person; maybe this is not the best idea for me."
Having once again chosen his passions over an immediate paycheck, Cuéllar kept at it and continued to persevere.
"It's a challenge to go back to school when you have a family and you are working, but it's also an investment," he says. "The days I was going to school, I was working then going to school then coming back to change diapers and do papers."
"But in reality, time flies so use it wisely, you're never going to regret having that degree," Cuéllar says.
"In my case it has taken me to so many places; working with the church, being involved with the Hispanic community. I'm editor of a Hispanic catholic newspaper, El Católico de RI and my 'Family Corner' column has won first place at the Catholic Press Association in the U.S. and Canada three out of the last six years. I have five songs published and I've been able to go all over the country, I'm travelling at least every other month to perform. "
"I'm really proud of my success," he says. "After all those sacrifices it's very rewarding to have opportunities to do things that you enjoy. All the things I've done I really enjoy, I'm not doing them because I have to. That has allowed me to really enjoy my life, and not feel like I was working at all."
Related Resources
Liberal Studies, BA ​
Explore Degree Programs​
Explore Certificate Programs​
Get Started: Apply