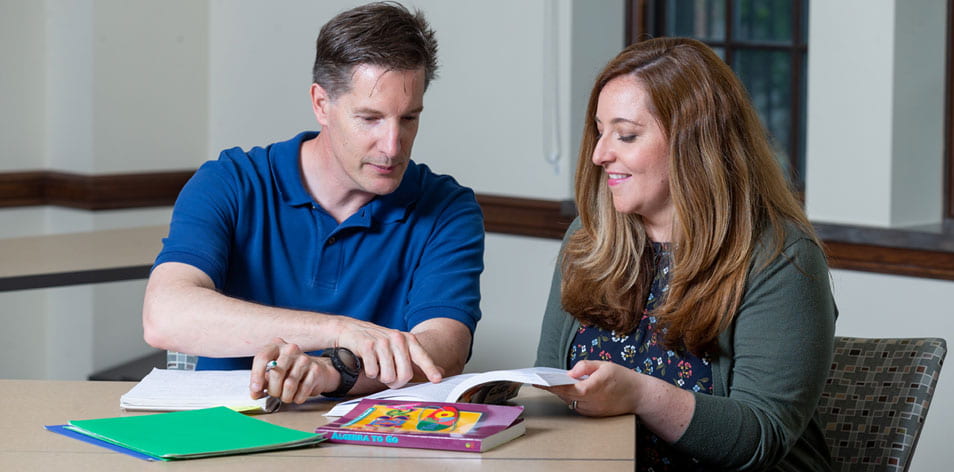 Teacher Certification and Mathematics Master of Education
Are you interested in becoming a middle or high school teacher and sharing your love of mathematics? Do you have a degree or strong background in math? Are you looking for a program that sets you on a path for teacher certification and a master's degree? Our combined Teacher Certification Program [TCP] and Mathematics [M.Ed.] is for you.
This one-of-a-kind program is offered by the Providence College Schools of Continuing Education and Arts and Sciences. It provides a path to secondary grades certification and developing your advanced math skills in this high-demand subject area.
The TCP/M.Ed. will provide you with:
Certification to teach secondary (grades 7 – 12) Mathematics (with completion of course work, clinical experiences in the school setting, student teaching and successful completion of certification exams – view the complete TCP curriculum for details)
A part-time, flexible course schedule, with courses offered year-round in the late afternoon or evening, as well as online
Expert faculty with extensive classroom and administrative experience, including current and former teachers, principals and superintendents
A small, close-knit community of other motivated adult learners like yourself in a small class environment
Personal attention and advising before you begin, throughout the program, and after you've achieved certification. TCP Coordinator Dr. Katherine Hibbard brings over 35 years of teaching experience as well as experience as a college certification officer and can guide you through the ins and outs of Rhode Island's teacher certification process.
Surprisingly affordable tuition that's less than most state schools in the region with financial aid available.
Program from a prestigious institution – Providence College has repeatedly been named the top regional university in the northern U.S. by U.S. News and World Report.
The ability to teach in 46 states; the TCP is approved by the Rhode Island Department of Education for full initial certification and can be used (through reciprocity) to achieve certification/licensure in at least 45 other states.
The TCP/M.Ed. in Mathematics Education Curriculum
Our curriculum addresses the biggest challenges in today's high school classroom. You'll learn about classroom management, cultural competency, project-based learning, working with students who are English learners, and other best practices, while also developing your high-level mathematics skills. The curriculum is tailored around the knowledge you already have and what you'll need to be an effective teacher.
The curriculum includes:

Coursework: 42 credits as outlined in the required course list below
Clinical Experience: 60 hours of experience in school settings prior to student teaching. Our Placement Director works with TCP students to arrange their clinical experiences, which are often completed at one of our partner schools
Certification Testing: All students seeking Secondary Mathematics certification must complete two Praxis certification tests: Principles of Learning and Teaching (PLT) test for grades 7-12 and the Mathematics content area test.
Student Teaching: Student teaching is a full-time, 12-week experience in classroom in grades 7-12, which is often completed in one of our partner schools. It is the final requirement in the Teacher Certification Program. The Clinical Educator (host teacher) and a Providence College faculty member provide supervision and feedback throughout the experience. Weekly seminars are conducted by the faculty member, as well. Students register for EDU 455 – Student Teaching in the Secondary School (9 credits/3 courses)**
Required Courses
EDU 791: Educational Psychology
EDU 792: Principles of Secondary Education
EDU 786: The Exceptional Child in the Regular Classroom
EDU 785: Educational Measurement
EDU 622: Reading in the Content Area
EDU 787: Methods Secondary Education
EDU 455: Student Teaching (9 credits)

Five Graduate Math Courses ( 15 credits)
Total Credits = 42

Explore Our Other Teacher Certification Program Options

Teacher Certification Program and Bachelor's Degree
If you haven't yet earned a bachelor's degree, you may be eligible to earn the degree and then apply into the TCP. Our TCP and SCE advisers can help you determine which degree program would best suit your needs and goals. Students are permitted to take the first two Education courses while working on the bachelor's degree.
Teacher Certification Program (Certification Only)
If you already have a bachelor's degree, our Teacher Certification Program will provide you with all the education and preparation you need to become certified to teach secondary (grades 7 – 12) Biology, Chemistry, English, Mathematics, Physics or Social Studies in Rhode Island and at least 45 other states.
Learn More
Combined Teacher Certification and Urban Teaching Master of Education
If you want to achieve a master's degree while also becoming certified to teach, and you have a particular interest in teaching in the urban setting, this one-of-a-kind program is for you. It provides a path to secondary grades certification and focuses on training teachers to succeed in diverse, urban classrooms.
Learn More
The Rhode Island Credential Review Consortium Pathway to Certification
Individuals who've successfully taught in grades 7 – 12 for a minimum of two years may qualify for this alternative route to teaching certification in Rhode Island. PC SCE will assist qualified individuals in pursuing this option.