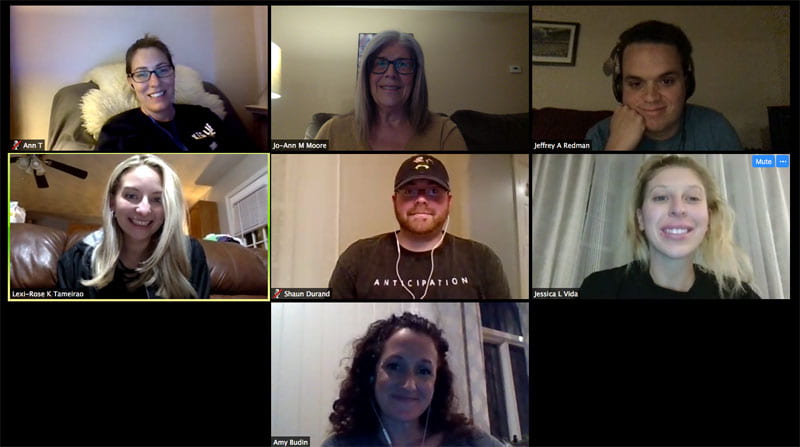 Studying a Pandemic in Real Time: Insights from Inside an Epidemiology Course as COVID-19 Unfolds
It's not unusual for students in the Healthcare Administration degree program at Providence College's School of Continuing Education to apply real-world experience to in-classroom learning; the majority of them are already working in the healthcare field. But students in Dr. Jo-Ann Moore's Epidemiology course this semester are getting first-hand experience and insight into an incredibly unique and serious situation: the unfolding of a pandemic.
"It's been a very interesting semester to teach this course," Dr. Moore said. "As we're going along learning about epidemiology and public health we're living it at the same time. So I'm able to make direct correlations with what's happening in real time across the country and around the world, which is amazing."
The class started the semester meeting on campus, and then moved online as a result of social distancing precautions associated with the pandemic. Along the way, the nine students in the course have learned about how disease spreads and the role of public health agencies in trying to control that spread, while folding in the evolving COVID-19 pandemic as a real-time case study. And as it turns out, when it comes to COVID-19 the rest of the medical world is in almost as much a learning phase as they are.
"This has been a new process for everyone with this particular disease, even in the healthcare industry," Dr. Moore said. "We're still learning how to care for patients. This is truly such a novel disease process that everyone is learning as we go. Sometimes this is how we have to face emerging diseases. We have to be adjustable and fluid, constantly staying on top of the science and changing how we're thinking and doing things accordingly."
The idea of remaining adaptable and open-minded while letting science lead the way has been one of the key "big picture" insights that Moore's students have drawn from the experience of studying epidemiology during a pandemic.
Just as those qualities have been essential to refining the treatment of this disease, the ability for society to adhere to them as well has been vital to the success of public health efforts to stop the spread.
"The issue that has probably been discussed the most in class with respect to COVID-19 is social distancing," Dr. Moore said. "That is really the key thing for stopping this virus, and the class feels people aren't understanding that. It's disconcerting to them when we're in class studying the data and learning the science behind how disease spreads when all the while they feel that the real world is not taking this as seriously as it should be," she says.
Sina Thimas, a student in the class, agrees. Thimas is a patient financial coordinator for an organ transplant facility where all the patients are at high-risk from the disease. She also serves on the board of the national Transplant Financial Coordinator Association.
"One of my biggest take-aways from this class is the importance of relying on data to make decisions," she said.
"Now everything that I look at and do, I'm looking for data and evidence-based research. We talk a lot in class about how diseases are transmitted, the data behind predicting that spread, and how the social distancing plays a huge role because of limiting that person-to-person contact. I'm having a hard time with some of the things that are being said out in the public right now, because I think there will be a huge discrepancy between that and what the actual data will show down the line."
Thimas says that through her own professional experience and what she's learned in the class, another key insight she has come to discover is how the availability of healthcare plays a role in controlling disease.
"I think socio-economic status and how or if people receive healthcare depending on where they live and their background is playing a huge role in the spread of this disease as well. At my hospital we provide care to a lot of underserved patients including the homeless population, and we're seeing a surge in our inpatient population especially among the homeless. So I think addressing those issues is probably going to be a big part of managing this in the future," she said.
Ann Turgeon, another student in the class, is a health plan system analyst for a Massachusetts healthcare system. She too has been struck at how the real-world COVID-19 crisis has paralleled the learning and conversations happening in the classroom.
"It's been really interesting to hear first-hand how people are dealing with this in their own professional lives," Turgeon said. "I work in healthcare and am dealing with COVID-related issues at work just like many of the other students in the class, some of them right on the front lines, providing care. Often times we'll talk about what's happening in the facilities where we work, things we're hearing about new treatment methods that are being tried with good results, and then we'll hear about those same things the next day on the news."
Dr. Moore says the rapid roll-out of new treatments and updated policies as a result of this pandemic are perfect examples of why epidemiology is so important.
"The experience of this pandemic has definitely shined a light on the important connection between epidemiology and public health," she said. "When the semester first began the students were learning a lot of the statistical stuff that you have to get a grasp on in this field. Now they're seeing how that data directly connects with the public – not only in terms of public health but also public health law and orders pertaining to public health being made by leaders in government. It's all based on epidemiology."
"Sometimes it's hard for students to see that connection," Dr. Moore continued. "But things are happening so much more quickly now because of this pandemic, so it's easier to appreciate. The CARES act is one example. As a nurse practitioner myself, I know that we've been working toward getting laws on the books to allow NPs to order home health services for patients for the past eight years. Now that has finally come about because of COVID and the CARES Act. So we've also talked in class about how a pandemic such as this can actually change law."
As much as the Epidemiology course is about learning the science of the field, perhaps one silver lining of this difficult time is that for these students, and for the public as well, the reasons why the field matters so much have never been more apparent.
"Epidemiology is there to inform policy decisions based on science. As we see this virus play out not only in terms of public health but in how it's being handled in the political arena and the court of public opinion, we're also seeing first-hand the major role that epidemiology should play in informing all of those discussions," Dr. Moore said.
Related Resources:
Degree Programs: B.A. in Healthcare Administration
PC School of Continuing Education (SCE)
How PC Makes it Possible to Go Back to School