Professional Studies Degree
Complete Your Professional Studies Degree and Gain a Career Edge
Our new Bachelor of Arts (BA) in Professional Studies is designed for working adults like you, who want to achieve more — personally and professionally.  And at $1050 a course, our surprisingly affordable tuition puts your goals within reach.
You'll build the skills employers demand and enhance your marketability by completing a career-related certificate at the same time as your degree. Certificates include accounting, business, leadership, management, teaching, and more.
Position Yourself for Success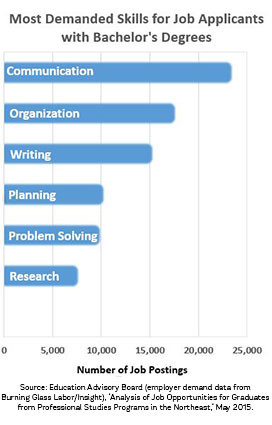 Employers seek applicants who have the broad range of professional skills necessary to succeed in management and leadership roles. And by 2020, 65% of jobs will require some college — 35% of which will require at least a bachelor's degree. You may be surprised to learn that 74% of employers would recommend a liberal arts education as the "the best way to prepare for success in today's global economy."
So we analyzed 56,000 bachelor-level job opportunities throughout southern New England and designed the BA in Professional Studies to equip our graduates for success — today and in the future.
This program combines a career-focused certificate with the soft skills — like communication and problem-solving– that employers need. In fact, according to a 2015 Wall Street Journal survey of 900 executives, 92% report that soft skills are as or more important than technical skills, while 89% struggle to find employees with these skill sets.
See what our students and graduates say

My courses provided me with fresh perspectives on business organizations today, how to lead with collaborative communication skills and ultimately facilitate innovative change that could become part of an organization's culture.
Fatima Bacon, B.S. '14, Rehoboth
Fidelity Investments

I completed two certificates while earning my Bachelor's degree. The certificates assisted in distinguishing me from my peers.  I was able to achieve a liberal arts education with emphasis on  career-intensive learning of my choice. This increased my self-confidence and ability to think deeper, making wiser decisions both in my work and personal life.
Aji Sanyang, B.A. '14, Providence
Financial Analyst, Staples Inc.

I was amazed at how a liberal arts education can be so relevant and intertwined with the issues facing our world today. Somehow PC has a way of making it all come together – even how the teachings of early philosophers shape current business management theories and political science views.
Karla Misto, B.A. '14, Foster
Providence College Career Education Center
Career-Ready Certificate + Liberal Arts Degree = Double the Job-Market Prospects
Our Professional Studies program allows you to tailor your education — and enhance your résumé and marketability — by completing a career-related certificate at the same time as your degree. Most certificates are 5 courses (15 credits).  Professional Studies certificates include:
If you have a bachelor's degree, a certificate can help boost your résumé. If not, it can be a valuable stand-alone credential. It's also a great way to sample the program before committing — and will bring you 15 credits closer if you decide to complete your BA.
For complete curriculum details, see the Professional Studies Curriculum.
The PC School of Continuing Education Advantage
Study part-time with evening and online classes
Pay just $350 per credit (comparable to most RI and MA state schools); scholarships and financial aid are available
Transfer up to 75 credits for faster completion
Earn credit for prior work, military, or life experience
Small classes are led by faculty who accommodate working adults
Advisors help you get started and reach your goals