Liberal Studies Degree
Degree programs: Associate of Arts and Bachelor's of Arts
Not sure what you want to do but know you need to do something? Design your studies to match your interests and goals. Be a project manager. Be a teacher. Be an accountant. Be a writer. The Liberal Studies program is your ticket to pursue your personal interests and professional goals. And with the ability to transfer up to 75 credits, it is the quickest way to earn your degree. Through the SCE's strong liberal arts foundation, wide-ranging free electives, and certificate programs that will give you a professional edge, a Liberal Studies bachelor's degree is a unique experience tailored to you.
Curriculum
Not sure what you want to do but know you need to do something? Design your studies to match your interests and goals. In addition to our extensive course options, you'll find our certificate programs are easily integrated into your Liberal Studies program. From business and leadership development to teacher certification and accounting, these certificates are designed to strengthen your chances for employment and future graduate study.
In addition to the core curriculum and other requirements, students in the Bachelor of Arts (BA) in Liberal Studies program complete the following courses:
For more information on the BA curriculum, click here.
Information on the Associate of Arts in Liberal Studies can be found here.
Apply to Liberal Studies and TCP
Student Profile
Kyisha Threats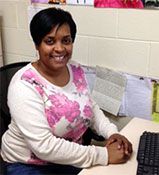 B.A. Liberal Arts, Teacher Certification Program 
Teacher Assistant, DelSesto Middle School (Providence)
Kyisha had heard great things about SCE, and after attending an info session she knew it was the perfect place for her to fulfill her dream of becoming a teacher.
My experience with the staff is awesome. They have your best interest at heart when it comes to your education.
She has also been impressed by the classes, especially how they'll be helpful in her professional career.
I sit and listen, and each time I learn something new whether it is from a classmate or the professor.
What You Can Do With a Liberal Studies Degree
So much more than you think. Community organizations, diplomatic agencies, the business world, education, journalism, libraries. These fields are filled with people who use the skills that are emphasized in the liberal arts. Our program delivers more than job-specific skills; it develops essential skills that are required in any profession, such as communication and problem solving. You will learn about the arts and sciences, but you'll also leave our program a better speaker, thinker, and writer. Our graduates are employed in a number of professions. They work for banks, nonprofit agencies, and the public sector. All of them know the power of a PC degree.