Pet Assisted Therapy Certificate
Enhance your interactions with clients, students, and others in need with the help of your therapy pet
The Pet Assisted Therapy Certificate — officially called the DJ Professional Pet Assisted Therapy Certificate ("DJ" was the name of the first dog to complete the program) — is a three-course, non-credit program that trains human and pet teams in the theoretical and practical aspects of pet assisted therapy (PAT). Teams who successfully complete the program are eligible for credentialing through the Windwalker Humane Coalition for Professional Pet Assisted Therapy.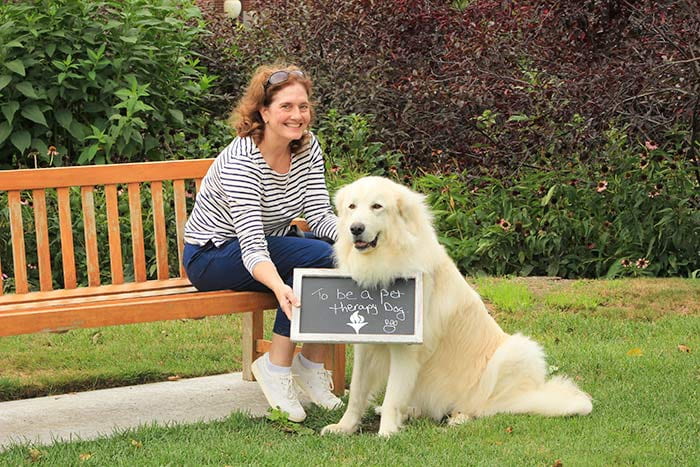 Program Design
This training was primarily created for human service professionals, such as social workers, clinical or school psychologists, home health aides, and others who want to enhance their interactions with clients or students through the love of their therapy pet. However, this program is open to anyone wishing to share their pet for the support of others, especially seniors, veterans, children, the disabled, or those grieving.

Highlights of the Pet Assisted Therapy program include:
3 courses
$200/course
Eligibility for credentialing upon completion with Windwalker
Pet Assisted Therapy (PAT) I: Family Therapy Pets – The Ethical Foundation of PAT

This course covers the bond between humans and companion animals from the perspectives of history, research, ethics, safety and legal issues, and application of Pet Assisted Therapy. The format includes lectures, discussions, videos, guest speakers, visits with credentialed family therapy pets, and possible field trips. Credentialing, insurance and temperament testing of pets are also addressed. By the end of Course I, students will learn how to set up safe and effective goal-oriented, treatment-based programs in a variety of settings. Students must pass PAT I and the pet must pass the temperament testing before proceeding to PAT II. Temperament testing for pets is held off-site.

Pet Assisted Therapy II: Building the Bond: Hands-On/Paws-On Learning

Pre-requisite: PAT I

This 8-week, hands-on course applies the concepts learned in PAT I to working with animals and prepares students for the internship. The family therapy pet and guardian (owner) work together to become acclimated to the sights, sounds and situations encountered in agencies, hospitals and schools, including wheelchairs, school bells, elevators and stairs, as well as practice approaching a patient in bed. The class includes training in pet therapy skills, basic obedience and lectures on animal behavior, and how to "read" the pet. There will be a mid-term as well as a final competency evaluation.

Pet Assisted Therapy (PAT) III: Internship: Experiencing the Joy

Pre-requisite: PAT II

This 20-hour, off-site internship experience spans six months and is divided into two segments.

Part A (10 hours, generally one hour a week): Part A is typically held at one of the approved training sites. Under the supervision of a highly qualified mentor, students provide PAT treatment with supervision and will additionally learn about PAT guidelines, referrals, goal setting and documentation.

Part B (10 hours, generally one hour a week) requires the completion of Part A. Students work with the internship coordinator (instructor) to create their own PAT program in a facility which previously has not had one, based on their pet's personality and interests. Teams then implement the PAT plan they just developed under the supervision of the internship coordinator.

This internship is scheduled individually. Contact us for more information.

Q) What kind of pet makes a good therapy pet?
A) Most any family pet that has a good temperament, is healthy and willingly likes to interact with people/strangers has the potential for being a therapy pet.

Q) What breed of dog can become a therapy dog?
A) Any breed or mixed breed of dog that is well balanced. A beloved family pet that has a wonderful temperament and is healthy enough for this work can have the potential for becoming a Therapy Dog. We do not discriminate based on breed.

Q) At what age can my dog enter a Pet Assisted Therapy program?
A) This depends upon the individual dog; however, our rule of thumb is at least one year old.

Q) What other qualifications or skills does my dog need to have prior to entering the program?
A) We recommend that you and your dog have the basic obedience skills prior to entering this program. This means having mastered the basic "come", "sit", and "down" commands. Proper loose leash walking, no jumping, and safely negotiating stairs are also best.

Q) What health documents are required?
A) We request that you have certificates/documentation showing proof of current Rabies vaccination along with up-to-date distemper/ as well as DHP, negative fecal and a basic statement from your veterinarian that your pet is healthy enough for pet assisted therapy.

Q) What other types of pets can become credentialed?
A) We have had several cats, a few bunnies, a duck, and even a mini horse.

Q) If enrolled in the program with a pet other than a dog, do I need to go through all three courses for credentialing?
A) Yes, all three would be required; however, course two, which is very specific to teams with dogs, would be slightly different for you. You would be required to attend the lecture & video portions of the class as well as what we call "walk-throughs" with your pet and a final competency test.

Q) Is here a temperament test conducted for each pet?
A) Yes, each pet needs to pass a basic temperament test evaluation performed by the instructors prior to course 2.

Q) What is the difference between service dogs and therapy dogs?
A) A Service Dog is a highly trained dog that ministers to the needs of one person. A Therapy Dog has a terrific temperament that loves interacting and working with many people in various environments. They are well-balanced, good temperamented family pets which, after successfully completing a program such as this, can serve many people in society in many different walks of life.

Q) Once credentialed, where can my dog/pet and I work?
A) Therapy pets, especially therapy dogs, can be found in almost every setting where there is a need. From hospitals, nursing homes and hospice, to social services and emotional/mental health. You can find them working with adults and children with various disabilities, in rehabilitation, Physical and Occupational Therapy. Additionally, in library, reading and educational programs and church programs, youth camps or making home visits. They are present in special situations offering relief from stress or grief. In our society today there is no end to where one might see a Therapy Pet. The need is great.
Contact Us