Site Home
>
PC/CCRI Guaranteed Admission and Tuition Agreement (GATA)
PC/CCRI Guaranteed Admission and Tuition Agreement (GATA)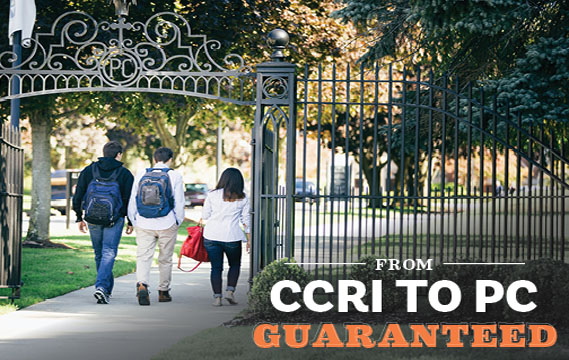 The Guaranteed Admission and Tuition Agreement (GATA) between the Community College of Rhode Island (CCRI) and Providence College School of Continuing Education (SCE) is for current CCRI students who have earned less than 30 credits thus far at CCRI.
(Please note: if you are a current CCRI student who has earned more than 45 credits or if you have already completed an associate's degree at CCRI, please see our CCRI to PC Traditional Transfer Agreements page instead.)
GATA DAYS 
Lincoln            October 21, 3:30-6:30 pm
Providence    October 23, 3:30-6:30 pm
Warwick        October 22, 3:30-6:30 pm
We'll be in the cafeteria at CCRI campuses with all the info you need to know about the GATA program on the below dates. Stop by, find out more, and get the ball rolling to apply!
The benefits of the GATA program for those that qualify include:
Guaranteed admission to SCE, and no fee to apply
Advising services from both CCRI and SCE advisers while you complete your associate's degree at CCRI
A 33% discount on SCE tuition – which means participating students can earn a bachelor's degree from Providence College for significantly less than the cost of a four-year state college.
Invitations to special activities and programs for GATA students
The admission offer is not binding – that means that if you are accepted into SCE through the program, you are not obligated to attend SCE once you graduate from CCRI
In order to be eligible to apply to the GATA program, you must:
Be enrolled in a degree program at CCRI that has a transfer agreement with SCE (currently General Business; General Studies; Liberal Arts; or Fire Science)
Apply to the GATA program before you earn 45 credits at CCRI (including transfer credit, college credits earned in high school from dual enrollment or enrichment courses, AP, or IB, or from CLEP, or military training); we encourage you to submit your application as early as possible in your academic career at CCRI
To remain eligible for admission to SCE through GATA once you've applied and been approved, you must:

Consult with a CCRI advisor and an SCE GATA advisor on course selection each semester that you're at CCRI until you've graduated
Complete your associate's degree and the SCE articulation agreement at CCRI within five years from the date that you submit your GATA application
Graduate from CCRI with a 3.0 cumulative GPA or higher
Enroll at SCE within two years of graduating from CCRI
The SCE tuition discount is good for five years from the date of your enrollment at SCE. To remain eligible for the discount, you must maintain at least a 3.0 cumulative GPA and earn a minimum of 12 credits per academic year in the SCE. Details are below.
To apply to the GATA program:
Contact the CCRI Advising Office at 401.825.1240 or advising@ccri.edu. Your CCRI adviser will help you to:
Complete and sign the GATA application, and submit it to the CCRI Department of Advising and Counseling.
Request your official transcript from all colleges and universities attended other than CCRI, whether or not transfer credit is expected or desired, and send to Providence College School of Continuing Education at: 1 Cunningham Square, Providence, Rhode Island 02918
To see how your CCRI courses may transfer into a bachelor's degree program at SCE, review our transfer worksheets: