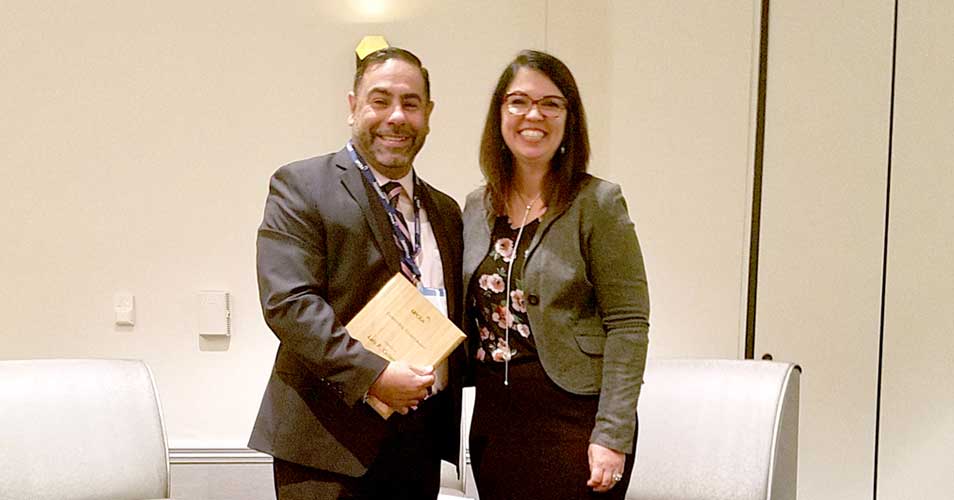 PC School of Continuing Education Grad Luis Colon of West Warwick Named UPCEA Outstanding Student 2018
Luis Colon of West Warwick has been named the recipient of the 2018 Outstanding Student Award by the New England chapter of the University Professional and Continuing Education Association (UPCEA). Colon received the award on Thursday, October 25 at UPCEA New England's annual conference held in Providence. Colon was nominated for the award by administrators at Providence College School of Continuing Education (SCE), where he graduated last May with a 3.84 GPA and a degree in Liberal Studies.
The Outstanding Student Award honors an undergraduate student enrolled in a program offered through a division of professional, continuing, or online education who has demonstrated outstanding achievement and an unusual will to learn—not only to enhance his or her own career but also to add to their own quality of life, and for that of the family and community.
The "Perfect Closure" To A Long, Sometimes Difficult, Journey
"It was the perfect closure to an amazing journey," Colon said. "[Being at SCE] was like being part of a family. The environment was always inviting and the fact that the classes can also include day students allows students of all ages to learn from each other while offering some of our own life experiences."
Colon's own life experiences have not always been easy. Despite that, he never gave up on his dream of earning a college degree.
"Lou's education, family, and work values are inspirational. He is a very positive, upbeat and goal oriented individual, who is devoted to his family and his community," said SCE Academic Counselor Jennifer Andrews. "He waited a long time to fulfill his dream of completing college – always putting his family first, before his own goals – and was an extremely serious and successful student in SCE who always strived for academic excellence."
Colon has served as Director of Constituent Affairs at the Rhode Island House of Representatives since 2013. Prior to that, he worked as a real estate agent and became the first and only Latino bail bondsman in Rhode Island's history in 2008. In 2014, he was elected to the West Warwick School Committee as a write-in candidate and brought out 56 % of the votes.
The son of a single mother who struggled to put herself through college as an adult, Colon and his wife of 25 years, Maria, met, married and became parents as teenagers. Their world was shaken in 2005, when Maria was diagnosed with breast cancer.
"Even though she is a survivor, at times she still feels a little guilt for those who aren't able to make it and who we have lost," Colon said.
Then in 2015, their (then) 20-year-old daughter was discovered to have the same genetic mutation as her mother and elected for a prophylactic bilateral mastectomy. Throughout struggles, Lou remained a pillar of support for his family while resolving to continue his education.
Following In His Children's Footsteps
Since then, Lou's daughter, now 25, went on to earn her master's degree, start her own foundation, and is presently studying for the MCAT. His 19-year-old son runs track at Judson University in Illinois, where he is studying Architecture, and was an all-state athlete in high school. As he put his children through college and graduate school, Lou was determined not to be left behind and to finally don his very own cap and gown.
"Aside from marrying my middle school sweetheart and the birth of my two children, [graduation day] ranks as one of the happiest days of my life," Colon recalls.
"While I sat and waited for my name to be called, I just kept replaying the years over and over, and in my mind thanking all the people who helped me on my journey. At the conclusion of my commencement, I went straight to the cemetery where my grandmother was laid to rest and shared my joy. Although receiving my diploma has not changed my employment status, it has cemented the fact that I belong."
In nominating Colon for the award, SCE administrators wrote, "We've all been struck by Lou's incredible devotion and commitment to education, to community and to family – including those members in Puerto Rico who were hit so hard by Hurricane Maria. In the face of many personal challenges and obligations, Lou persevered. He explains that his greatest accomplishment is being loyal — as a son, sibling, husband, father, employee, student and friend. This quality truly sums him up. We have no doubt Lou will continue to achieve countless personal and professional goals."
Colon has some advice of his own for others who are thinking about going to college as an adult:
"Just do it! Do it today. Remember that if receiving your degree has always been your dream, that only you control it. Just take one class to get the feel and before you know it, you will begin to tackle what you once thought was an insurmountable feat. I promise it will be the best gift you will ever give yourself."