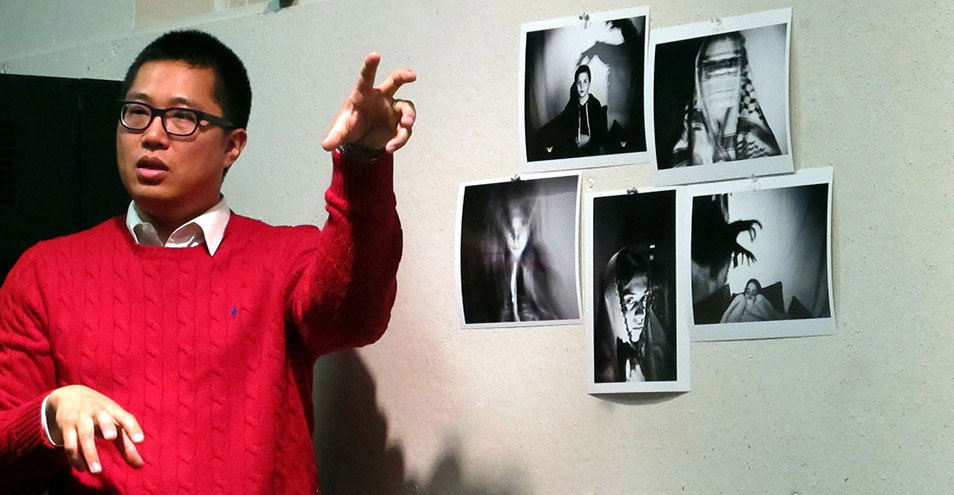 PC SCE Faculty Feature: 12 Questions with Eric E. Sung
Art and adventure are two words that describe the passions of Eric E. Sung. Put them together and it seems the perfect combination for his role as an Associate Professor of Photography at Providence College. Sung teaches all levels of photography courses at PC's day school as well as Introduction to Photography for PC's School of Continuing Education.
Born in Seoul, Korea, Sung moved to New Jersey at 16. After earning a Bachelor's degree from Richard Stockton State University of New Jersey and graduating with a Master's degree in Fine Arts from Indiana University, Bloomington, he worked as an artist, commercial and advertisement photographer, and a graphic designer. Sung 's work has been exhibited in internationally and nationally recognized venues including New York, Ohio, Texas, Korea, and China. He currently is a working and exhibiting artist, in addition to being a member of the Providence College faculty.
Sung's passion for art is obvious in his academic and professional careers, but the adventure? That passion is evident in his hobbies and wish list of experiences to come. Read on to learn more…
The last thing I read was:
David Freund: Gas Stop.
Number one on my bucket list is:
To sail around the world.
My favorite movie is:
"Perfume," because the story is interesting and the ending is notable.
If I wasn't teaching or working in my chosen field, I would:
Be a mountain ranger or professional explorer.
The most memorable moment in my career is:
When one transforms from a student to an artist.
The scariest thing I've ever done is:
Scuba diving alone
My iTunes account (or CD rack) is mostly filled with:
Jazz, classical and 2Pac.
My favorite spot on campus is:
Photography studio in Hunt-Cav.
If I had to choose just one, I'd choose: dog, cat, or goldfish?
This is a tough one but it will have to be dog. By the way I am allergic to both dogs and cats.
People would be surprised to know that:
I am a certified diver.
What do you like most about teaching adult students?
In art classes, personal experiences and how they may be expressed in the artwork is very important. Adult students bring very interesting experiences to class and their art projects reflect it well.
Do you feel you've learned anything from your students in return?
Of course. In my classes, rather than providing just instruction, I do more of facilitation for my students so that they are better prepared to achieve their own artistic goals. In the process, they introduce their own ways of viewing and expressing their thoughts with original viewing perspective. It is not only meaningful but empowering to be part of this process.
Related Resources
Get Started: Apply