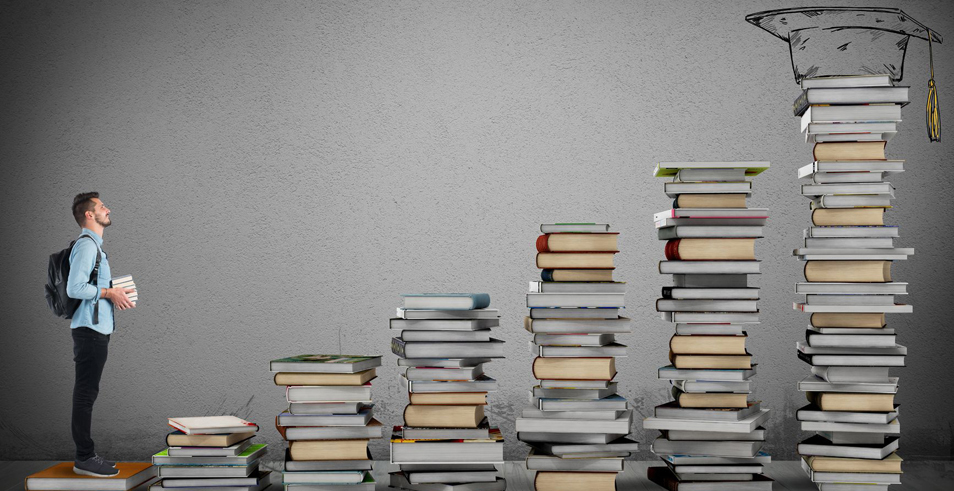 Is Going Back to School Really Worth It?
​​​Dean of PC School of Continuing Education Says Yes, But Three Key Factors Must Be Met
With the New Year now upon us goals and resolutions are on the minds of many – and that may include finally getting that promotion or raise at work, or even switching to a new career altogether. Those who haven't finished college may wonder if they really need a degree to get ahead and if it's still a worthwhile investment – or even if it's financially or logistically possible to go back to school as a working adult. Janet Castleman, dean of Providence College's School of Continuing Education (PC SCE) say the answer is a resounding yes – but the ability to make it happen often hinges on three key factors.
Half the Unemployment, Twice the Earning Potential – But Fears Remain
"The latest report from the Bureau of Labor Statistics shows that the unemployment rate for those with a college degree is at 2.5 percent, which is half the rate of unemployment for those without a degree. The report also shows that the benefits of a degree extend beyond employment to actual earnings as well. Those with a bachelor's degree earn on average twice as much as high school graduates and about 30% more than those with an associate's degree over their lives," Castleman says.
The Three Key Elements for Adult Student Success
Even given these incentives, Castleman says that adults often express concern about whether or not they can even afford to go back to school, both financially and from a scheduling perspective. That's why she says it's important to choose a school that offers affordable tuition (along with generous policies for transfer of prior credits, and credit for life experience); flexible schedules and class formats; and high student satisfaction with the overall program and experience.
Key #1: Cost
Castleman says that concern about the cost of going back to school – and the mistaken belief that financial aid and scholarships aren't available for adult students – is often the number one obstacle that keeps many adults from going back to school.
"We want people to know that while it may seem daunting at first, it is absolutely possible – and rewarding in so many ways – for adults to go back to school and earn a degree," she says.
When it comes to cost, Castleman says that a little research will tell you a lot.
"A lot of people just assume that because we're a private college our tuition must be high. But actually PC SCE costs less than many state schools when you add up the total cost of tuition as well as required fees. Many people also don't realize that financial aid is available for adult students, as are scholarships and credit for life experience."
Tuition at PC SCE for the 2018-19 academic year is $1,080 per three-credit class, and there are no per-semester flat fees. That tuition applies to all students regardless of whether or not they're in state or out of state. By contrast, tuition and fees for in-state students at Rhode Island College's continuing education program is $1,111 per class and at the University of Rhode Island it's $1,616; those fees increase for out-of-state students.
PC SCE has also teamed up with the Community College of Rhode Island (CCRI) to offer its graduates what may be the most affordable path to a bachelor's degree in Rhode Island.
"We've set up the Guaranteed Admission and Tuition Agreement with CCRI – or 'GATA' for short, which is similar to the Joint Admissions Agreement among state schools. Basically, current CCRI students can apply for admission to PC SCE to pursue a bachelor's degree after they graduate from CCRI with an associate's," Castleman says. "If accepted, they're guaranteed admission and a 33% reduction in our tuition, as long as they graduate from CCRI with at least a 3.0 GPA. So right now that means the cost per class is reduced from $1,080 to $723.60"
Key #2: Convenience
The challenge of fitting class time and commuting into an already busy schedule of work and family is another major concern for adult students. Castleman says that a variety of class formats and terms can go far in alleviating this challenge.
"To answer this need for our students, PC SCE offers three different class formats and five terms to allow for a lot of flexibility in scheduling," she says. "This includes traditional on-campus classes, online classes, and hybrid classes that are primarily online but also include several in-person meetings throughout the semester. The school runs classes during the traditional fall and spring semesters and also offers accelerated online and 5-week summer classes. Students can also earn three credits in just one week during intensive 'Wintersession' and 'Maymester' terms."
Key #3 Student Satisfaction with The Overall Program
Once cost and convenience are addressed, the decision to go back to school, and where, begins to focus on the experience itself. An engaged faculty and supportive learning environment tailored to adult students is critical.
At SCE, student satisfaction is already high according to an independent survey conducted last spring. The survey, called the Ruffalo Noel Levitz Adult Learner Inventory, measures student satisfaction with 47 different aspects of the continuing education experience. PC SCE scored higher than the national average in all 47 measures.
"We work with an independent company to conduct an in-depth survey of our students every three years so that we can gauge how successfully our program is meeting their needs, what our strengths are, and where there are opportunities for improvement," Castleman says.
"The results of this most recent survey were very encouraging. It showed that 86% of our students were satisfied or very satisfied with the overall experience at SCE, compared to just 74% of all respondents nationally. And 90% of our students said they would recommend SCE to other adult learners."
The results of a new national survey echo these findings, showing that online and adult students are generally more satisfied with their college experience that traditional students.
The Bottom Line: Do Your Research, and Pick Up the Phone
For adults who want to earn a degree, Castleman says the most important thing is to take the first step with a bit of research, and that it shouldn't just be online.
"Of course you'll want to take a good look around a potential school's website, but once you've found one that appeals to you, nothing is as helpful as picking up the phone and talking with an adviser, or scheduling an in-person meeting. They can get you set up with all the information you need from available classes to meet your interests, to financial aid options. It's one quick phone call that could turn out to make a huge difference in the rest of your life."
Related Resources
How PC Makes it Possible for Adults to Earn a Degree
PC SCE: Degree Programs
PC SCE: Certificate Programs
Paying for School
Get Started: Apply