How PC's First "GATA" Grad Earned a Bachelor's Degree for Half the Cost of Many State Colleges
Twenty-one year-old Victoria DuBois of Warwick just received her bachelor's degree in Liberal Studies at Providence College's School of Continuing Education (SCE) for roughly half the cost of many four-year state schools. How'd she do it? She was the first graduate of the PC School of Continuing Education's "GATA" program. "GATA" stands for the Guaranteed Admission and Tuition Agreement between the Community College of Rhode Island (CCRI) and SCE. Without that program, DuBois says she may not have been able to afford a four-year degree at all.
"The idea of college was always so daunting, not having the money for it or not really fitting in. CCRI was my only option after high school, and I was fortunate enough to have my Pell Grant cover the whole two years. I went there right after high school, and then was able to go straight on to PC through the GATA program," DuBois said.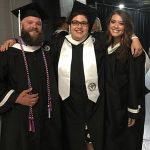 The GATA program allows qualified students working towards an associate's degree at CCRI to apply for guaranteed admission to PC's School of Continuing Education to pursue a bachelor's degree upon their graduation from CCRI. It also provides accepted students a 33% reduction in tuition at SCE. With SCE's regular tuition already on par with many state schools, the reduction means that GATA students program can receive a bachelor's degree from Providence College for significantly less than the cost of attending a four-year state school.
The program is relatively new, accepting its first few students in the 2016-17 academic year. Since then, 10 CCRI graduates have enrolled at SCE through the GATA agreement, with at least another half-dozen expected to begin this Fall. SCE Dean Janet Castleman says she expects that number will continue to grow.
"It's really such a tremendous savings for students," Castleman says. "When you look at the total cost for the typical student who attends CCRI for their associate's degree and then SCE for their bachelor's degree through the GATA program, it's nearly half what a four-year degree would cost at many state schools. Our goal is to make more students at CCRI aware of the program, so they can take advantage of this terrific opportunity."
As the first to complete the program and graduate, DuBois says she would recommend it to anyone.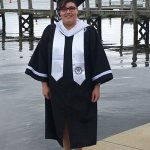 "I think the GATA program is a very wonderful program for anyone at CCRI who is looking to continue their education at a discounted price," she said. "I would not have been able to attend PC if not for the lowered tuition. I think it offers a great opportunity, which in some cases may not have been possible."
DuBois also says the support she found at SCE was more than financial.
"The thing I will remember most fondly about SCE is the faculty and professors I have had the pleasure to work with. Jennifer Andrews [SCE adviser] is truly an angel when it comes to helping SCE students and being so dedicated to her work. I have had many professors that have influenced me so heavily, and a number of them will remain friends," she said.
But DuBois' educational journey doesn't end here. She's continuing to build on the knowledge she's gained at CCRI and SCE, and is pursuing her Master's in Social Work at Rhode Island College beginning this Fall, so that she can help others.
"I work at Sojourner House, a domestic and sexual abuse shelter, as a relief advocate. My classes at PC have given me an appreciation for the work I do there, and have helped me better understand my role in the world and in all the things I wish to do in human services," DuBois said. "After I complete my MSW, I would like to work as a school social worker in a high school or college. I would also like to become an LICSW [Licensed Independent Clinical Social Worker] and have my own practice one day.
Related Resources
GATA Program
Liberal Studies
Degree Programs
Certificate Programs
Paying for School
Get Started: Apply