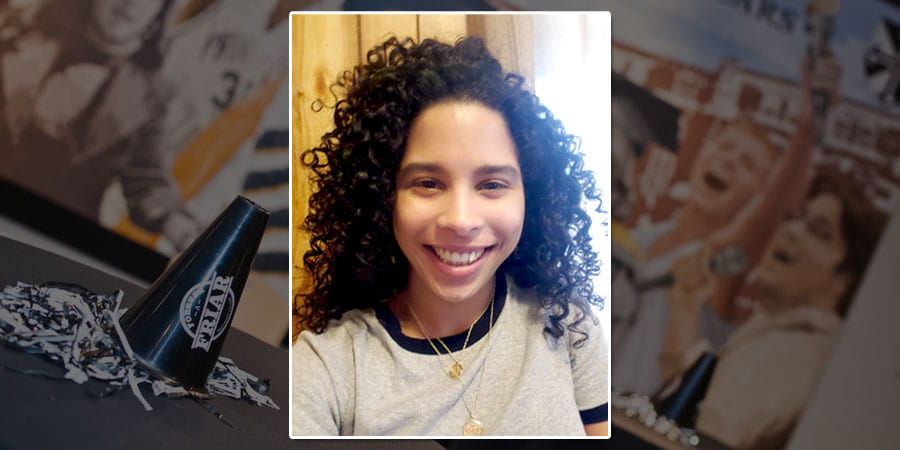 Cassidy Mills 'SCE20: The Program That Allowed Me to Be a PC Grad and Taught Me The Value of Persistence
Cassidy Mills didn't get into Providence College when she applied her senior year of high school. But her story is proof that persistence pays. This May, the Cranston native will receive a bachelor's degree in Liberal Studies from PC, through its School of Continuing Education (SCE). It's an accomplishment that is owing to her hard work, growing confidence and a unique program that allowed her to transfer from the Community College of Rhode Island to PC, SCE and receive her bachelor's for a significant savings off tuition.
Mills graduated from CCRI in 2017 with an Associate's in General Studies. She immediately began pursuing her bachelor's degree at PC SCE through the Guaranteed Admission and Tuition Assistance (GATA) program, a pre-arranged transfer arrangement set up between CCRI and PC, SCE.
"I actually always wanted to go to PC," Mills says. "When I was a student at CCRI, I got a flyer about the GATA program in the mail and that's when I started researching it. It turned out to be one of the best decisions I've ever made."
The Guaranteed Admission and Tuition Assistance (GATA) program offers students who are currently enrolled at CCRI and who maintain a GPA of 3.0 or higher guaranteed admission to PC SCE to pursue a bachelor's degree, along with additional support from an SCE adviser and a one-third discount off of PC SCE's tuition. This is a significant savings, considering that SCE's continuing education costs are already lower than many four-year state schools, including RIC and URI.
For Mills, who is working two part-time jobs while going to school full time, the GATA program was the key to being able to further her education beyond an Associate's degree.
"The tuition discount was the number one deciding factor for me in applying to the GATA program," she says. "If I hadn't found this program and all the benefits it offers, I don't know if I would have continued on in school, honestly. This experience has given me some lessons that I needed that I can take with me to grad school – just the idea that it's possible to find a way to keep going if I want to was a big takeaway for me from this program."
With that confidence now instilled in her, Mills is looking forward to taking her education even one step further in the fall, when she plans to begin graduate studies in Library Science.
"I've always been in love with reading; I read constantly," she says. "And when I took my first [Development of Western Civilization] class at PC, I was blown away. I liked learning about how great works of literature fit into historical timelines and cultures. So I'm focused on learning more about how literacy and literature can benefit communities today, especially underprivileged communities. I'm really excited to be graduating from PC and really excited to get started on the next step in my journey."
Related Resources:
PC SCE Guaranteed Admission and Tuition Agreement (GATA) Program 
PC SCE Degree Programs 
PC SCE Degree Programs: B.A. in Liberal Studies 
How PC Makes it Possible to Go Back to School