Bachelor of Arts in Professional Studies (Flex)
Earn a degree and a professional certificate in one program.
The Professional Studies degree is designed to help you build the most highly demanded career skills. In fact, we created this program after analyzing the skills required by employers to fulfill more than 56,000 job opportunities across Southern New England.
Highlights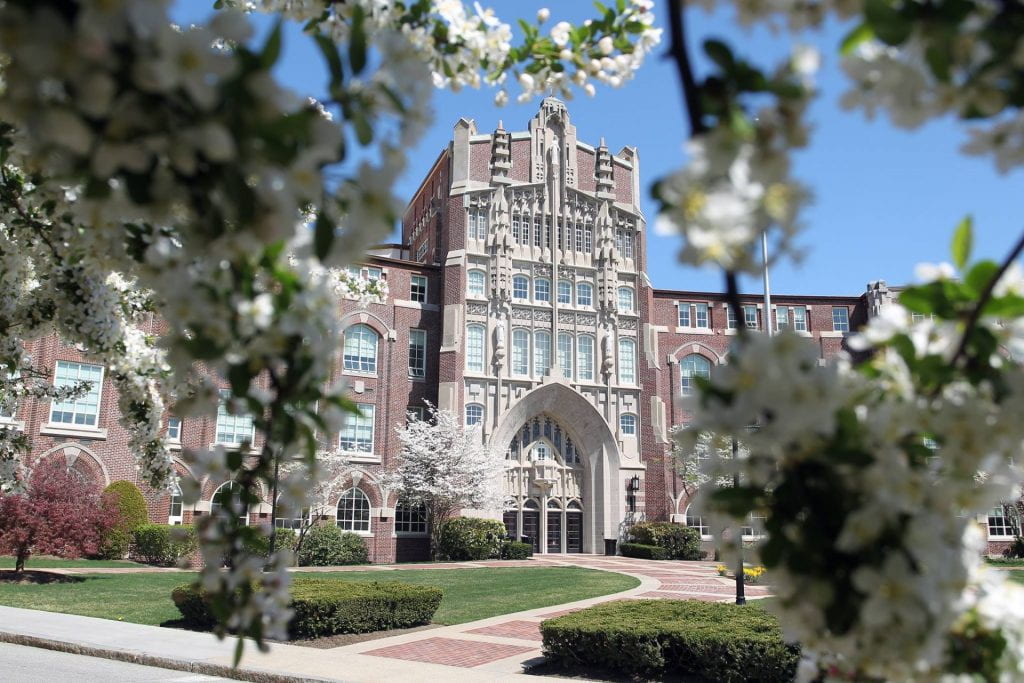 Program Details
'Adaptive' leadership approaches
Writing for business
Corporate presentations
Conflict management techniques
Global business issues
Group dynamics in the workplace
Effective human resource management
This program also provides the flexibility you need to develop expertise in a specialized area of your choice, such as business, management, accounting, leadership, teaching, or legal studies.
INT 150: Introduction to Interdisciplinary Studies (3 credits)
This course serves as the cornerstone or gateway to several degree programs in the School of Continuing Education (SCE). The course introduces students to an interdisciplinary approach to describing, analyzing, and researching current themes, problems, and projects. Because students come from a variety of professional careers and backgrounds, the course will embrace varied texts, assessments, and activities. By the end of the course, each student will be able to define interdisciplinarity and to engage in reflective, critical reading and writing on interdisciplinary topics and to connect their academic pursuits with their professional interests.

LDR 101: Leadership Theory (3 credits)
This course examines the development of leadership theory and practice from a contemporary and historical perspective. Emphasis is placed on new models of "adaptive" leadership emerging in 21st century work, community, and civic contexts. Students will develop a leadership learning plan to guide their study of leadership.

SOC 322: Occupations and Professions (3 credits)
A sociological investigation of occupations and professions in contemporary American society. The course is an analysis of the nature of occupations in relation to social structure, occupational differentiation, and socialization and education of occupations and professions. There is also a consideration of current issues in occupational sociology, including professionalization, sex-role differentiation, and the implications of occupation for life changes.

AREA ONE: COMMUNICATION
Choose one of these courses

COM 210: Organizational Communication (3 credits)
Emphasis is placed on the application of the principles and practices of correct business writing in the form of business memoranda, letters, and reports which stress clarity and precision in the proper use of the English language. Also, considerable attention is given to oral communications, which enable the student to be well prepared for seminars, interviews, and platform speeches. Prerequisite: English proficiency.

COM 375: Intercultural Communication (3 credits)
With globalization of the world economy, it is imperative that managers be sensitive to differences in intercultural and business communication. The most significant issues pertaining to cross- cultural interaction are explored: cultural and intercultural communication (both verbal and nonverbal) and culture shock. Information regarding how to conduct negotiations across countries and to create business documents in different societies is considered.

LDR 102: Conflict Resolution (3 credits)
This course focuses on the dynamics of conflict development and resolution within social organizations. Operating from the perspective that disunity is destructive to human organizations, the course stresses the techniques of conflict management and reduction. Finally, the course addresses the critical role of leadership in the resolution of conflict situations and the restoration of unity.

AREA TWO: CROSS-CULTURAL UNDERSTANDING
Choose one of these courses

GST 101: Introduction to Global Studies (3 credits)
Explores the concepts and practices of citizenship in an age of globalization, and how best to promote economic development, democracy, community, and social justice. Students discuss globalization issues and the socio-economic, political, and cultural interconnections of the world by combining community experience and academic study. Particular attention will be drawn to perspectives on globalization beyond the Euro-American framework. Fulfills SCE Civic and Global Engagement core requirement.

LDR 201: Leadership and Diversity (3 credits)
The study of leadership within a multicultural, multiethnic, global context is the focus of this course. A special emphasis is placed on understanding issues of power, influence, and authority when diverse groups practice leadership in a global society.

MGT 360: International Business (3 credits)
This is a survey course to introduce students to the global business environment. The course explores the economic, political/legal, cultural, and competitive complexities to conduct business internationally and globally. It discusses and analyzes international and global business practices.

AREA THREE: THE WORKPLACE
Choose one of these courses

LDR 480: Leadership Development (3 credits)
Through course readings and discussions, self-assessments, reflections, and other activities, students will develop an understanding of who they are now and who they wish to become as leaders. Based on these understandings, students will create a personal development plan to assist them in becoming ethical and effective leaders. Prerequisites: LDR 101 and 201

MGT 301: Organizational Behavior (3 credits)
This course involves the analysis of how people behave both as individuals and as members of groups and organizations. The topics covered in this course include perception, motivation, group dynamics and team effectiveness, leadership, power and politics, decision-making, and managing diversity and individual differences. Prerequisite: MGT 101.

MGT 320: Human Resource Management (3 credits)
Human resource management deals with the design of formal systems in an organization to ensure the effective and efficient use of human talent to accomplish organizational goals. Topics covered include job analysis, staffing, training and development managing and appraising performance, compensation, pay and benefits, employee relations, and union-management relations. Prerequisite: MGT 101.

CAPSTONE REQUIREMENT

INT 480: Capstone in Interdisciplinary Studies (3 credits)
The Capstone course for several degree programs is a culminating experience in which students complete their educational plan (initially created in the introductory course and further developed throughout their program), reflect on their ePortfolio, and design and complete their capstone project. This final piece, the capstone project, is designed by the student, in conjunction with the instructor, is tailored to the student's professional development, and addresses issues and topics of particular concern to that student. In-depth individualized work, peer-critique and collaboration, presentations and a final update to the student's e-portfolio are all incorporated into an in-depth individualized experience.

PROFESSIONAL CERTIFICATE / CONCENTRATION
Choose one of the following certificate programs

Certificate in Accounting
Certificate in Business
Certificate in Management
Certificate in Leadership
Certificate in Legal Studies
Certificate in Organizational Communication
Certificate in Pre-Med/Pre-Health Studies

This program focuses on developing best practices in a wide range of professional settings, particularly your own. The development of general professional skills is matched by gaining expertise in a particular field through the required certificate. You'll become more effective in your current role and more 'marketable' and better prepared to advance in your career—no matter what direction.

Professor Lucas Duclos
Professor Duclos holds an Ed.M. in Learning Design and Innovation from Harvard University. He teaches INT 150 (Cornerstone in Interdisciplinary Studies) and various writing courses.

Professor Jess Geier, Ph.D.
Dr. Geier is the Director of Special Projects at New Heights Charter School, as well as a founding member. Her seminar-style courses cover issues of race, class, and gender. She teaches various Sociology and Gender Studies courses as well as INT 480, the Capstone course for the major.

Professor Sean Kenny
Professor Kenny offers more than 25 years of experience coaching work teams in the medical device, pharmaceutical, nonprofit, and retail sectors. He teaches LDR 101 (Leadership Development and Theory).

Develop effective skills in leadership, management and oral and written communication that apply to a variety of professional settings.
Develop the reasoning and analytical skills needed to address ethical and moral issues that arise in one's personal and professional life.
Analyze information, data and research in relevant courses in order to develop sound decision-making.
Students will reflect on their coursework and the intersection with their professional understanding and preparation as developed over the student's educational and professional career.
development of the student's perspective and knowledge of the professional world.