Michael W. Lescault
Providence College, Ph.D.
Current Employer: Austin Preparatory School, Reading , MA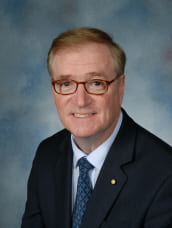 Biography:
Born in Boston and raised in the city's West Roxbury section, Dr. Lescault was educated at Saint Theresa's School and Catholic Memorial before continuing his education at Providence College where he earned a B.A., two M.A.s, and a Ph.D.. His career in education has included serving as Headmaster of Saint Paul's in Harvard Square, a school connected to Harvard's Catholic chaplaincy and Saint Paul's Church. His teaching career at Providence began in 2006 and has included graduate level courses and courses through the School of Continuing Education. Dr. Lescault is the author of In Season and Out of Season and A Life of service. He is a lifelong musician, enjoying time at the piano and on guitar. Among honors received is a Papal Knighthood, conferred in 2007.
Courses taught:
The Reformation
The Tudors
Modern China/Japan