Erik J. Chaput, Ph.D.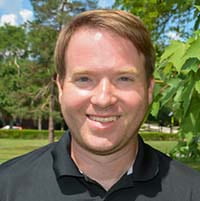 Contact: echaput@providence.edu
Highest degree earned: Doctorate in Early American History,
Maxwell School of Citizenship and Public Affairs at Syracuse University
Current Employer: Western Reserve Academy
Significant projects:
Historian-in-residence on the Dorr Rebellion Project website hosted by Providence College: http://library.providence.edu/dorr
Lead editor of the digital letters of Thomas Wilson Dorr, John Brown Francis, Dorrite Women and Thomas Dorr's prison correspondence: http://library.providence.edu:8080/dorrletters/
Biography: Erik J. Chaput teaches American history in the School of Continuing Education at Providence College and at The Lawrenceville School in New Jersey. He is the author of The People's Martyr: Thomas Wilson Dorr and His 1842 Rhode Island Rebellion (University Press of Kansas, 2013). He is a frequent contributor to the Providence Journal and the blog Small State, Big History.
Courses taught: American Revolution; Civil War; Age of Jefferson and Jackson (online SCE Courses)