Donald E. Kilguss, Jr.
Contact: dkilguss@providence.edu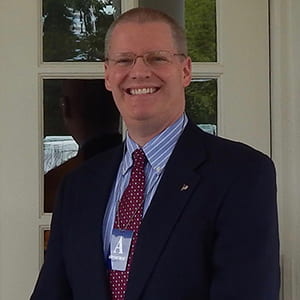 Highest degree earned: Master of Arts, University of Rhode Island
Current Employer: Bristol Community College (associate professor of history)
Significant projects: I've been fortunate to be the recipient of several important honors which is what I think you're looking for here:
For SCE, I have been honored to deliver the SCE graduation dinner remarks in 2007 and to discuss the historical context of the 2016 election campaign in the inaugural lecture in the SCE Professor Discussion Series (10/2016).
At BCC, I have been the recipient of several awards including the National Institute for Staff and Organizational Development (NISOD) Excellence Award in 2012, the Massachusetts Colleges Online (MCO) Course of Distinction Award in 2018, the Phi Theta Kappa Distinguished Service Award in 2019 and the Last Lecture Award in 2019.
They all are fairly self-explanatory except for the Last Lecture — as described by the college, "the Last Lecture is a faculty honor created by the Bristol Community College Student Senate. The award honors one exemplary faculty member who has affected students' education and their lives in significant ways." I delivered the Last Lecture at commencement 2019.
In addition, since I teach history and government at BCC, I have been interviewed by several papers, radio stations, etc. over the years— including appearing with Bill Rappleye on Channel 10 twice. I appeared once to discuss the primary race to fill Ted Kennedy's Senate seat and the second time to discuss the recall election for the Fall River mayor (2014) for a full half-hour on 10 News Conference.
Biography:
A lifelong resident of RI, I graduated from Providence College and did my graduate work at the University of Rhode Island, where I also served as a graduate teaching assistant. After receiving my MA, I began teaching as an adjunct instructor at several local colleges including PC. I first taught at PC during the 1993-94 academic year and have been teaching for SCE since the spring of 1995. I look forward to my SCE class each semester because it always feels like I'm home and passing on the values and ideals that were instilled in me by my mentors at PC.
Courses taught: US History to/since 1877, History of Presidential Elections I & II, History of Minorities in the US