Theology Degree
Degree Program: Bachelor of Arts
Immerse yourself in Scripture. Unravel the questions of moral theology. Our rich Dominican and Catholic heritage makes PC the perfect fit for anyone looking to achieve a deep understanding of theological thought within a spiritually rich environment.
Curriculum
As you develop knowledge about the Church and its teachings, you may also build a passion for theology that can lead to advanced graduate study or professional opportunities.
Sample courses
Catholic Social Thought
Church in Today's World
Principles of Moral Decision
The Letters of St. Paul
Additional information regarding the curriculum can be found on the catalog site.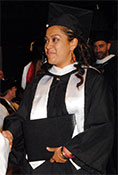 Student Profile
Mercedes Hernandez
B.A. Theology
After easily transferring past credits from RIC and CCRI, Mercedes was off to a great start continuing her education at PC. She credits the supportive SCE staff and the camaraderie of her peers for giving her the inspiration to achieve her dream of earning a college degree.
We all have the same goal—success—and we all have the same love for SCE. It makes the difference between successfully graduating or getting left behind.
The SCE staff didn't treat me like another statistic passing through the halls but as an individual student with individual goals. Their goal was helping me succeed in mine.
What You Can Do With a Theology Degree
Though the most obvious career choice may seem to be a minister or other spiritual leader, theology graduates can be found in a range of occupations. You may consider a career in parochial school teaching, fundraising, or community-based roles such as social work, counseling, or government policymaking.
No matter your professional path, a theology degree helps you understand the foundations of our culture, discern ways to honor your spirituality in the secular world, and grapple with the moral and ethical challenges that we all face. Lawyers, politicians, journalist, and other professionals also often consult with theology graduates for their insight and expertise in matters of religious diversity.