Professional Studies Degree
Bachelor's Degree in Professional Studies
Our Bachelor of Arts (BA) in Professional Studies program combines a strong foundation in the liberal arts with 21st century knowledge and skills in areas such as leadership, communication, diversity and ethics. Our flexible program is designed to help you build the skills that are most in demand by employers today, while at the same time developing expertise in a specialized area such as business, management, accounting, leadership, teaching, legal studies, and more.
Why Get a Professional Studies Degree?
One Degree, Countless Career Paths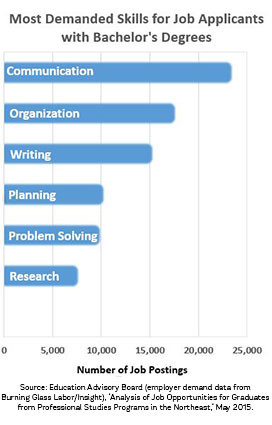 A Professional Studies degree is extremely versatile. It provides the practical knowledge and foundational business skills needed to pursue a wide variety of career paths, while also allowing students to fine-tune their study according to their particular professional interests and goals.
Why Choose SCE?
A Broad-Based Curriculum Focused On In-Demand Skills and Built on PC's Distinctive Liberal Arts Core
When we created our BA in Professional Studies program, we used market and occupational research to analyze the skills required for 56,000 bachelor-level job opportunities advertised throughout southern New England, and designed the program to help our graduates excel in those skills. Research continues to find that employers are increasingly seeking applicants who have a broad range of professional and "soft skills," such as communication, organization, writing, planning and problem solving – the very skills that are central to a liberal arts education. In fact, 74% of employers reported that they would recommend a liberal arts education as the "the best way to prepare for success in today's global economy."
A Degree and Certificate In One, Tailored To Your Professional Goals
You will benefit from the valuable knowledge and soft skills gained from PC SCE's distinctive core curriculum while focusing on specialized knowledge and skills for today's professional environment in the areas of communication, cross-cultural understanding, and the workplace. In addition, you will tailor your program of study according to your individual professional goals by pairing the degree program with any of our professional certificates in business, management, organizational communication, teaching and more.
A Surprisingly Affordable, Uniquely Flexible and Supportive Adult Education Program
Study at your own pace and on a schedule that works for you, with classes offered online, in the evenings and on weekends
Our tuition is less than most state schools in the region, at $375 per credit. Plus, we offer financial aid, scholarships and payment plans
We allow you to transfer up to 75 credits from prior education, so you can finish even faster (and at a reduced cost)
We also award credit for military experience and qualifying prior work or life experience
Our small classes are led by faculty who understand and accommodate the needs of working adults
Our advisers help you get started and are always available to support you along the way
You'll graduate with a degree from Providence College, a prestigious institution that has been repeatedly named the top regional university in the northern United States
by U.S. News and World Report
See all the ways PC makes it possible for adults to earn a degree and reach their professional and personal goals