SCE Graduation Dinner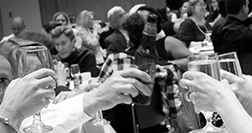 SCE's annual Graduation & Recognition is a very special occasion where graduates, Eta Lambda inductees (the national honor society for adult students), and Dean's List recipients come together to celebrate their many accomplishments!  This is an evening filled with reflection, comradery, and recognition with your family, friends, and fellow SCE students.  Enjoy a night in your honor with a fabulous meal, drinks, music, various awards, and student speakers.
Thursday, May 17, 2018
SCE Graduation and Recognition Dinner
Reception 6:00pm Slavin 112
Dinner 6:30pm Slavin 64 Hall
Celebrating the hard work, dedication and big dreams of all our SCE students at the 2017 SCE Grad & Recognition Dinner​. You all inspire us!
Thursday, May 17, 2018
Eta Lambda Induction Ceremony
Time 5:30– 6:00pm
Slavin LL01 Soft Lounge